19052014
As expected sycophants prevailed. RAHUL SONIA resign but Working Committee request them not to resign. WC is now a defunct body. Just a show.
They(Sonia and Rahul Gandhi) offered(resignations) it but it was not accepted-Makhan Lal Fotedar,Congress pic.twitter.com/bms72BGLoh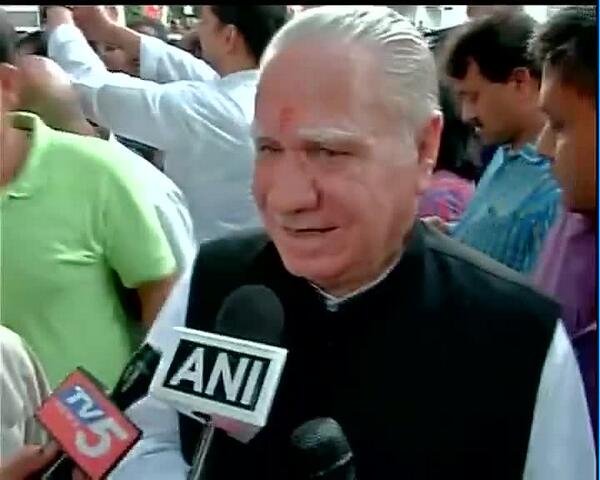 Edit : Edit
Comments : Leave a Comment » 

Categories : Politics, Uncategorized
19052014
Starting his political innings as a grass root worker, Nabam Tuki reached the pinnacle of his political career for the second time as the eighth chief minister of the sensitive border state of Arunachal Pradesh. 
Tuki was first elected to the second legislative assembly in 1995 from Sagalee constituency in Papum Pare district and served as the deputy agriculture minister in the Gegong Apang ministry. 
He also served as Transport and Civil Aviation minister in 1988. 
Earlier, he was the irrigation and flood control (IFCD) minister in 1996. 
He was re-elected to the assembly in 1999 from the same constituency and became a cabinet minister with the Environment and Forest portfolio in the Mukut Mithi ministry. 
He was re-elected in the 2004 and 2009 assembly elections and served as the PWD and Urban Development minister under the Apang and Khandu ministries. 
Born on July 7, 1964 in remote Ompuli village in Sagalee sub-division, Tuki is a graduate and has seven children, including two sons. He belongs to the Nyishi community. 
He also served as state NSUI President (1983 to 1986) and was Chairman, North East NSUI Coordination Committee (1984 to 1986). 
He was General Secretary, All India NSUI (1986 to 1988) and Arunachal Pradesh Youth Congress President (1988 to 1995). 
Tuki also served as Vice Chairman, North Eastern Youth Congress Coordination Committee (1988 to 1993) and as Working President, North Eastern Youth Congress Coordination Committee from 1993 to 1995. An avid sports lover, Tuki is also the current president of the Arunachal Cricket Association. 
Earlier on November 1 2011, Tuki was sworn in as the seventh chief minister of the state succeeding Jarbom Gamlin. 

Edit : Edit
Comments : Leave a Comment » 

Categories : Uncategorized
19052014
ASHOK B SHARMA*
The decline in Muslim representation in the Lok Sabha to the level of 23, accounting for a mere 4.4% of the entire strength of the Lower House of the Indian Parliament after the just concluded 2014 general elections has given rise to concerns among the Muslim clerics and the so-called secularists.
A cursory look at the past will show that the situation is similar to that in 1957 when 23 Muslim MPs were elected after the general elections. The highest number of Muslim MPs elected was 49 in 1980 general elections.
The results of the recent general elections has, however, led to much head-shaking among the Muslim clerics and in the "secular" cabal, pointing accusatory fingers to Modi wave that swept the polls.
No doubt that with the increase in population, the Muslims, which constitute about 14.6% of the population, deserve to be represented well in the Indian Parliament. 
However, the trend in Muslim representation in the Lok Sabha has been erratic. A careful analysis of the past will show that the number of Muslim MPs remained within 20s since the first general elections in 1951-52 till the fifth general elections in 1971. In 1977 general elections, the number of Muslim MPs increased to 32 and thereafter reached its record high at 49 in 1980 general elections. In 1984-85 general elections which bounced back Rajiv Gandhi as prime minister with a record majority of 404 seats, riding on Indira Gandhi sympathy wave, the number of Muslim MPs elected fell to 45 and thereafter the numbers declined to 33 in 1989, 29 in 1991 and 27 in 1996.
The number of Muslim MPs remained within 30s following general elections in 1998 – it was 38 in 1998, 32 in 1999, 35 in 2004 and 28 in 2009.
What has raised concerns among the Muslim clergy and the "secularists" is that in 2014 polls, from the largest state, Uttar Pradesh, that has over 18% of Muslim population not a single Muslim MP was elected. In fact this has been the first instance ever so far that no Muslim MPs was elected from this state. The number of Muslim MPs elected from UP varied in every elections – the highest number being 18 in 1980 and the lowest being five in 1962.
In the last general elections in 2009, seven Muslim candidates – Salman Khurshid , Mohammad Azharuddin and Zafar Ali Naqvi from the Congress and Kadir Rana, Shafiqur Rehman Barq, Kaiser Jahan and Tabassum Hasan from BSP won from UP.
This time there were 55 Muslim candidates in the poll fray in UP – BSP fielded 19 Muslims, Samajwadi Party 13, Congress 11 and the Aam Aadmi Party 12. Interestingly, none of the Muslim contestants made it even to the second spot. Most lost heavily. BJP did not field any field any Muslim candidate but won from at least 21 constituencies in which the Muslim community has a decisive say, expect Azamgarh and Badaun which were cornered by the Samajwadi Party.
Who is responsible for this situation? The so-called secular parties treated Muslims as their vote bank and never supported their actual development to join the national mainstream. Each of these parties through their policy of appeasement scrambled for Muslim votes. Their one-point agenda was 'Stop Modi, Stop BJP'. They tried to instill fear in the minds of the Muslims that BJP's victory would be dangerous for them. Sharp competition among so called secular parties split the Muslim votes. BJP which extended its reach breaking caste and religion barriers with its programmes for development was the ultimate gainer. Even some Muslims, including the Shias voted for BJP.
Similar was the case in other parts of the country. It is not that BJP did not put up any Muslim candidates outside UP. The party fielded five Muslim candidates in total. But all of them lost including Shahnawaz Hussain from Bhagalpur in Bihar who lost by a narrow margin of 9,485 votes. Though in the list of 282 BJP's winning candidates there is no Muslim, but in the list of 336 NDA's winning candidates, Muslim candidate Choudhary Mahboob Ali Kaiser won from Khagaria in Bihar on Ram Bilas Paswan-led Lok Jansakti Party ticket.
Though UP has been unable to elect any Muslim MP for the Lok Sabha, West Bengal elected as many as 8 MPs from the community – 4 from Trinamool Congress, 2 each from Congress and CPI(M). Bihar elected 4 Muslim MPs – one each from Congress, NCP, RJD and Lok Jan Shakti Party. Kerala and Jammu and Kashmir elected 3 Muslim MPs each. Two Muslim MPs from Kerala are from Indian Union Muslim League and one from Congress. In Jammu and Kashmir all the 3 elected MPs are from Jammu & Kashmir Peoples Democratic Party. Assam elected 2 Muslim MPs from All India United Democratic Front. Andhra Pradesh, Lakshadweep and Tamil Nadu elected one Muslim MP each from All India Majlis-E-Ittehadul Muslimeen, Nationalist Congress Party and AIADMK respectively.
Why blame the BJP alone? The so-called secular parties have not been able to get adequate number of Muslim MPs elected to the Lok Sabha. They were more engaged in Modi baiting and instilling fears in the minds of the Muslims that a BJP government would work against their interests. They projected themselves as "saviours" of the Muslims, in the name of "secularism". This is how they wanted create their vote bank among the Muslim community.
Modi after coming to power needs to expose this fake secularism and vote bank politics. The BJP needs to shake hands and have an honourable deal with the Muslims for the real development of the community.
(*The writer is a senior journalist on strategic and policy issues and former Agriculture Editor of The Financial Express. He can be reached at – ashokbsharma@gmail.com Mobile phone no 09810902204)

Edit : Edit
Comments : Leave a Comment » 

Categories : Uncategorized
19052014

Edit : Edit
Comments : Leave a Comment » 

Categories : Uncategorized
19052014
Rajpal Singh
Director and Head
Youth Affairs & Sports, Skills Devolopment (International) & Postal Reforms
& Labour and Employement
May 19, 2014
Dear Sir / Madam,
APPLICATIONS INVITED
GOVT. SPONSORED OPPORTUNITY
For
BUSINESS DEVELOPMENT WITH GERMAN COMPANIES
We are delighted to invite you and your organisation to nominate senior manager(s)/ official(s) for Government Sponsored training programme in Germany for following Batches:-
1.      International Batch               :           Focused  Sectors – Mining & Energy Efficiency
2.      General Batch                        :           All sectors are eligible.
These are part of the ongoing Indo – German Manager Training Programmes, which are sponsored by Government of Germany and Supported by DIPP, Ministry of Commerce and Industry, Government of India and GIZ.
The aim of the training programmes is to expose Indian Industry to make them fit for bilateral trade and business with German companies.
These programmes promote business orientation, competitiveness and the international exposure of companies. Duration of the programmes will be about one month each in Germany.
Kindly find attached application form and Brochure for your perusal (click on the hyperlink to download). Please send us the detailed application form duly filled with a letter of recommendation from head of the organization and demand draft/Cheque in favor of FICCI payable at Delhi.
Batch                                                             

Last date of receiving  Applications

            Selection Interviews

 

International Batch

June 15, 2014

                June 17, 2014

General Batch

July 15, 2014  

                July 21-23, 2014
We shall be pleased to answer any queries that you may have.
With best regards,
Yours sincerely,
(Rajpal Singh)

Edit : Edit
Comments : Leave a Comment » 

Categories : Uncategorized
19052014
Deoraj Chaturvedi, CEO, IKF believes that an enthusiastic approach towards the sport by all franchise owners will put the sport on the global map.
Monday, 19th May 2014, Mumbai: With the auction of the Pro Kabaddi league all set to kick off in the financial capital, Mumbai on Tuesday. Mashal sports along with the International Kabaddi Federation and the Amateur Kabaddi Federation of India conducted a day long exercise for all eight franchisees to build a healthy and succesful league.
In a content rich and interactive session which included a mock auction by the traveling gavel, Bob Hayton, Venue Management sessions by joint tournament Director Preeti Mehta, television and broadcast plans by StarSports, the owners were briefed on standard auction procedure and the critical steps in setting up a franchise with a firm eye of investing in the future of the sport.
In a heartfelt speech,  C.E.O of International Kabaddi Federation, Mr. Deoraj Chaturvedi addressed and thanked the franchise owners for their commitment towards showcasing the modern sophisticated avataar of the game. Speaking on the occasion, he said "In the world of sport, where champions are rewarded by their federation it is often the budding talent that loses out. In our country we have millions of men and women who play, follow and love the sport, yet it is only 12 lucky individuals who are given the opportunity to represent the nation, My concern is for that the rest of the top players who missed the bus. The introduction of the Pro Kabaddi League will help these players, not only in their development as an athlete but also to help relieve some of the anxiety felt by playing a sport that is yet to enjoy the benefit of a strong financial backing. With the addition of sports in CSR more corporates will come forward and with their backing we can look to develop facilities and truly march on in the hope of establishing Kabaddi on the global circuit. The game itself has thrill, agility, everything a sport needs. What we were lacking, was a promotional platform. Pro Kabaddi has given us this wonderful opportunity to showcase this action-packed indigenous sport for the world to see." Continuing on, on the potential of the sport he added "Kabaddi is now played in 32 countries across the globe, the mandate for a sport to be officially recognised as an Olympic sport requires 50 playing nations, we are confident that the Pro Kabaddi League will go a long way in helping us achieve this long standing dream."
Radha Kapoor, CEO of the Delhi outfit said "Kabaddi is a sport that originated in India, the prospect of promoting a sport that is truly Indian in every sense of the word was very exciting for us, we look forward to giving back to this sport what it has over the course of centuries given the country, which is a legacy. Being a team that comes from the capital always has its pressures but we are fully committed, not only toward the sport but also towards making a lasting impact in the lives of the players and the fans alike. We hope to build a strong community that will reshape the way the city of Delhi approaches the sport."
The eight participating teams comprising the league have been given an equal purse of INR 60 lac for Category A and B Players. Ninety six players from across 14 countries have been divided into three categories, A, B and C by the Federation based on prior records and performances. The base price for category 'A' players is INR 4 lac and bidding for Category 'B' players will begin at INR 2 lac. Category 'C' players will be allotted to teams through a double draw format. The twelfth and final player on the team will be chosen by the franchise as a 'State Wild Card' from a list provided by the association, who could prove to be a big inspiration for all the youngsters who aspire to play in the Pro-Kabaddi League.

Edit : Edit
Comments : Leave a Comment » 

Categories : Uncategorized
19052014

American Chamber of Commerce – India
Congratulates BJP and Narendra Modi on election victory
NEW DELHI 19th May 2014: The American Chamber of Commerce in India (AMCHAM India) has welcomed the historic mandate secured by BJP under the dynamic leadership of Mr. Narendra Modi.
"The American Chamber is indeed looking forward to resurgence in India's economic landscape and rapid improvement in the investment climate in the country," the Executive Director, Amcham India, Mr Ajay P Singha, stated. 
Amcham has had regular contacts with BJP and with Mr. Narendra Modi in the recent past. Amcham delegations comprising of CEOs of US companies in India have met Mr. Modi in 2011 and 2012 in Ahmedabad. Subsequently in 2013 an Amcham delegation comprising of CEOs of US companies met Mr. Nitin Gadkari, the then President of BJP, in Mumbai as well as in New Delhi. The meeting took place in conjunction with the IT Cell of BJP and was presided over by its Co-Convenor, Mr.  Vinit Goenka.
A working group comprising Mr. Goenka and senior representatives of US companies in India addressed several concerns impacting US investments in India. The working group identified issues which could be successfully addressed by decision makers in various sectors ranging from IT, Energy, Defence, Aviation, Food Processing, Agriculture, Healthcare and Financial Services. There was general agreement on most issues specially related to simplifying taxation, bringing in more transparency in Government contracts and creating a conducive investment climate.
Amcham recently brought out a document articulating the "Challenges faced by US companies in India." Advance copies were shared with the BJP leadership.  "We are confident that our genuine concerns will receive an excellent response from the new government to help us address the challenges faced by US companies operating in India," stated Mr Singha. "Amcham is looking forward to working closely and strengthening the hands of the various ministries and departments in the Government of India to bring about the desired economic reforms and robust growth rates essential for showcasing India as the most desired nation for foreign investments," he added. 
Earlier U S President Barack Obama had called on and congratulated PM designate Narendra Modi on his historic and landslide election victory. Both the leaders discussed Indo-US strategic partnership and the prevailing global economic situation. President Obama stated that under Modi's leadership India will contribute at the global stage. 
Meanwhile, Secretary of State John Kerry has also tweeted: "Congrats to @narendramodi and BJP. Look forward to working w/you/growing shared prosperity/security w/world's largest democracy." 
At a recent meeting of the Amcham India, the US Ambassador to India, Ms Nancy J Powell, had stated that there is a potential for US- India bilateral trade in goods and services to be increased from its current level of nearly $100 billion to an ambitious goal of $500 billion. "One possibility might be the convening of a Track 1.5 event during the first 100 days of the new Indian government to begin a conversation on how we can best accomplish this task."  The Ambassador had mentioned that there are remarkable opportunities to rapidly expand U.S.-India trade in sectors such as civil aviation; defense; infrastructure; energy; healthcare; IT services; and, agriculture.
About Amcham- India
The American Chamber of Commerce in India (AMCHAM – India) is an association of American business organizations operating in India. AMCHAM – India is accredited to the Chamber of Commerce of USA, Washington DC, U.S.A. (COCUSA). It is also a full member of the Asia Pacific Council of American Chambers of Commerce (APCAC). Established in 1992, AMCHAM has around 500 members. Companies of US origin make up about 95 percent of membership, the remaining being individual or honorary members. The incumbent U.S. Ambassador to India is the Honorary President of AMCHAM. AMCHAM enjoys a very close relationship with the US Embassy officials and receives tremendous support in fulfilling its objectives.