24072014
The Nehru Memorial Museum and Library
cordially invites you to a Conference
at 9.00 a.m. on Thursday-Friday, 24th -25th July, 2014
in the Seminar Room, First Floor, Library Building
on
'Spaces of Water:
New paradigms in ecocritical enquiry'
in association with
Dr. Venugopal Maddipati,
Ambedkar University, Delhi
and
Dr. Sugata Ray,
University of California,
Berkeley, USA.
For more information, please see the conference microsite: <http://spaceofwater.wordpress.com>
Concept Note:
The reciprocal relationship between global water systems and cultures of spatiality in constituting historical events across time and space has received little attention in ecohistories of India. Spaces of Water: New Paradigms in Ecocritical Enquiry is an attempt to address this opacity in environmental studies by bringing together leading scholars, artists, architects, and activists from India, Europe, and the United States to articulate new forms of ecocritical thinking that reads the cultural as both determining and being determined by the environmental. How does the environment shape, and is shaped by, the ontological domain of affective spatialities? Over two days, speakers will rethink the intersections between water systems and the phenomenology of spatial cultures in early modern, colonial, and contemporary India to explore the topographies of the concept-term waterscape in the wake of environmental histories and ecocriticism more broadly.
It is, indeed, one thing to historicize the way in which water has been contained within tangible spatial volumes. It can be quite another thing to consider the manner in which water contains and is contained by the affective. If the former requires a close analysis of architectural and spatial practices that serve to control, divert, or manage water as a natural resource, the latter necessitates an exploration of the manner in which immaterial but phenomenally conceivable essences imbue water with diverse forms of value. How, then, might we engage with the liquescence of water as simultaneously constituting a ground for living, a demonstrative setting for articulations of sovereignty, as global sites of circulation, and the transmitter of sacrality? How might art history, geography, history, environmental studies, and art and architecture practice collaboratively engender an expanded field of ecocritical enquiry? What kind of trans-disciplinary approaches might such a move entail? Demarcating horizons, systems,thresholds, memory, and processes as thematic frames, Spaces of Water addresses the ways in which technological, representational, and aesthetic acts of envisioning imaginative geographies and flow destabilizes water as only a commodifiable natural resource and a product and effect of environmental governance.
Programme Schedule:                              Thursday, 24 July, 2014
9.00 a.m. – 9.05 a.m.

Opening Remarks:

 

 

 

9.05 a.m. – 9.15 a.m.

Introduction:

 

 

Prof. Mahesh Rangarajan,

Nehru Memorial Museum and Library,

New Delhi

 

 

Dr. Venugopal Maddipati,

Ambedkar University,

Delhi,

Prof. Sugata Ray,

University of California,

Berkeley, USA.

9.15 a.m. – 10.45 a.m.

Session 1

'Horizons'

 

 

 Chair:

 

Prof. Kavita Singh,

Jawaharlal Nehru University,

New Delhi.

 Speakers:

Prof. Rila Mukherjee,

Institut de Chandernagor and University of Hyderabad.

'Water Histories:

Oceans into rivers'

 

 

Dr. Hannah Baader,

Kunsthistorisches Institut in Florenz –

Max-Planck-Institut, Italy,

Forum TransregionaleStudien, Berlin.

'Oceanic Waters, Spatical Orders:

Architecture and the sea'

 

 

 10.45 a.m.-11.00 a.m.

 

 

Tea /Coffee

 

 

 11.00 a.m. – 12.30 p.m.

Session 2

'Systems'

 

 

Chair:

 

 

 

 

Speakers:

 

 

 

 

 

 

 

 

 

 

 

 

 

 

 

 12.30 p.m. – 1.30 p.m.

 1.30 p.m. – 3.00 p.m.

 

 

 Chair:

 

 

 

 

Speakers:

Mr. Madhav Raman,

Anagram Architects,

New Delhi.

 

Prof. Tamara Sears,

Yale University,

 USA

'Rich in Honey:

Architecture and water in the central Indian frontier'

 

 

Prof. James Wescoat,

Massachusetts Institute of Technology,

USA.

'From Nallah to Nadi , Sewer to Stream:

Urban waterscape inquiry in India and the US'

 

 

 

 

Lunch

Session 3

'Thresholds'

 

Dr. Tripta Wahi,

Former Affiliate Fellow,

NMML.

 

 

Dr. Dipti Khera,

New York University,

USA.

'Looking at the Lake-Palaces:

Worlds of pleasure and power in eighteenth-century Udaipur'

 

 

Dr. Sugata Ray,

University of California,

Berkeley, USA.

'Water is a Limited Commodity:

The case of Vishram Ghat, Mathura'

 

 

3.00 p.m. – 3.20 p.m.

Tea/Coffee

 

 

3.20 p.m. – 4.15 p.m.

Coda:

 

Chair:

 

 

 

Speaker:

 

 

 

Dr. Venugopal Maddipati,

Ambedkar University, Delhi

 

 

Mr. Atul Bhalla,

Artist,

New Delhi. 

 

 

 

 

 

 

 

 

9.00 a.m.- 10.30 a.m.

Friday, 25th July, 2014

 

Session 4

'Memory'

 

Chair:

 

Dr. Vasudha Pande,

NMML.

 

Speakers:

 

Prof. Catherine B. Asher,

University of Minnesota,

USA.

'Water:

Its meanings and powers in the Indian Sufi tradition'

 

 

Dr. Venugopal Maddipati,

Ambedkar University,

Delhi.

'A History of Coincidence by the Dham River:

Vinobha Bhave at Paunar'

 

10.30 a.m.- 10.50 a.m.

Tea/Coffee

 

 

10.50 a.m. – 12.20 p.m.

 

 

 

Session 5

'Processes'

 

 

Chair:                        

Dr. Amita Baviskar,

Institute of Economic Growth,

Delhi.

 

 

Speakers:

Dr. Suhas Paranjape,

Society for Promoting Participative Ecosystem Management, Pune.

'Water as Nature:

Resisting capitalisation'

 

 

 

Dr. Gopa Samanta,

University of Burdwan,

West Bengal.

'Governing Water in Cities:

A critical look into the existing paradigm'

 

12.20 p.m.- 1.30 p.m.

Lunch

 

 

1.30 p.m. -3.00 p.m.

Closing Round Table

Chairs:

 

 

 

 

 

 

Speakers:

Dr. Venugopal Maddipati,

Ambedkar University, Delhi,

Dr. Sugata Ray,

University of California,

Berkeley, USA.

 

 

Dr. Amita Baviskar,

Institute of Economic Growth, Delhi,

Dr. Vasudha Pande,

NMML,

Mr. Madhav Raman,

Anagram Architects, New Delhi,

Dr. Tripta Wahi,

Former Affiliate Fellow,

NMML.

 

3.00 p.m. – 3.30 p.m.

Tea/Coffee

Edit : Edit
Comments : Leave a Comment »

Categories : Uncategorized
24072014
A plane landing in stormy weather crashed outside an airport on a small Taiwanese island late Wednesday, and the transport minister said 47 people were trapped and feared dead.
Taiwanese Transport Minister Yeh Kuang-shih was quoted by the government's Central News Agency as saying 11 other people were injured when the plane crashed and caught fire while making a second landing attempt.Yeh was quoted as saying the flight, operated by Taiwan's TransAsia Airways, carried 58 passengers and crew members.
The news agency had earlier quoted a local fire brigade chief as saying that 51 people had been killed.
Flight GE222, a twin-engine turboprop ATR-72 aircraft, was heading from the southern port city of Kaohsiung to the island of Penghu in the Taiwan Strait, according to the Taiwanese news agency.
It crashed outside the airport in Xixi village, and pictures in local media showed firefighters using flashlights to look at wreckage in the darkness.
Penghu is a lightly populated island that averages about two flights a day from Taipei.
The flight left Kaohsiung at 4:53 p.m. for Magong on Penghu, according to the head of Taiwan's Civil Aeronautics Administration, Jean Shen. At 7:06 p.m., after saying it would make a second attempt at a landing, the plane lost contact with the tower.
Visibility as the plane approached was 1,600 meters (one mile), which met standards for landing, and two flights had landed before GE222, one at 5:34 p.m. and the other at 6:57 p.m., the agency reported.
But it appeared that heavy rain reduced visibility and the plane was forced to pull up and make a second landing attempt, the report cited the county fire department as saying.
Taiwan was battered by Typhoon Matmo early Tuesday morning, and the Central Weather Bureau warned of heavy rain through the evening, even though the center of the storm was in mainland China

Edit : Edit
Comments : Leave a Comment »

Categories : Media
24072014
 INVITATION: Talk on "Building a Sustainable Future: Transitions we need", July 24th,
Narender Yadav
Dear Mr Sagar,
As part of its trialogue 2047 series, Development Alternatives (DA), is organising a special talk "Building a Sustainable Future: Transitions we need".  You are cordially invited to participate in the event.
Details of the event are given below:
Date: July 24th
Timing: 06:00 pm-07:30 pm
Venue: DA World Headquarters, B-32, Qutub Institutional Area, New Delhi
Eminent Speakers:
·    Chaitanya Nadkarny, President, Rang De, Bangalore,
·   Bharati Chaturvedi, Founder and Director, Chintan, New Delhi,
·   Chhavi Rajawat, Sarpanch, Village Soda, Jaipur, Rajasthan
·   Kalyan Akkipeddi, Founder Proto Village, Andhra Pradesh
·   G.K. Bhat, Chairman, TARU.
·   Kriti Nagrath, Low Carbon Construction Expert, Development Alternatives (DA).
In this regard, Please find attached a Press Release and Invitation attached with this mail
Narender Yadav
9810821868

Edit : Edit
Comments : Leave a Comment »

Categories : Business, Education, Transport
24072014
Eminent citizens, activists, academicians, unionists, journalists
condemn SLAPP cases against Paranjoy & MoneylifeOutraged at the defamation notices served on Paranjoy Guha Thakurta,
for writing a book called "Gas Wars: Crony Capitalism and the Ambanis"
and the review article '"Ambani ki dukaan?" by Sucheta Dalal of
Moneylife, eminent citizens, activists, academicians, unionists,
journalists have condemned Strategic Litigation Against Public Persons
(SLAPP) cases for publishing articles based on information available
in public domain.Their statement of concern is as under:
Statement of Concern on SLAPP Cases filed against authors, journalists
and publishers
We, the undersigned condemn the threats of defamation cases served on
authors, journalists and now as publishers in writing.
We have read the book "Gas Wars: Crony Capitalism and the Ambanis"
co-authored and published by Paranjoy Guha Thakurta and the review
article '"Ambani ki dukaan?" 'by Sucheta Dalal, Managing Editor of
moneylife magazine website and her messages on twitter and we found
nothing defamatory either in the book or in the articles and tweets.
The impeccable credentials of Paranjoy Guha Thakurta and Sucheta Dalal
have been exemplary for Indian journalism in the era of paid news,
embedded journalism and draconian corporate control over media.
We note that both the book and the article are based on information
that is readily available to everybody in the public domain.
We are outraged by the assault on freedom of press and public interest
through threatening letters. The attempt to intimidate journalists who
report truth which commercial czars is quite reprehensible.
We express our support to the authors and publishers in question who
have exercised their right to free expression enshrined in Article
19(1) (a) of the Constitution of India. The day such voices are
silenced that would be a black day for Indian journalism and
democracy.
We have observed that the authors have been fair to Late Dhirubhai
Ambani, Mukesh Ambani and Anil Ambani and their companies, by
providing their version of events and circumstances.
Among other issues, the core issue that this scholarly and rigorously
referenced book and the articles in question raise is: who all are
colluding with to deprive present and future generations of Indians of
their claims of the natural resources of the country?
We have pondered over the questions like: "If gas price is low as per
correct production rate then, why should Indians pay higher price of
gas? Who wants Indians to pay price of Indian natural resource as per
US price rate?" We observe that the legal notices from Mukesh Ambani
and Anil Ambani and their companies through their lawyers will have us
accept that raising such questions is defamatory.
While delivering the speech at the award of Nobel Prize for Literature
in 2005, Harold Pinter said, "I believe that despite the enormous odds
which exist, unflinching, unswerving, fierce intellectual
determination, as citizens, to define the real truth of our lives and
our societies is a crucial obligation which devolves upon us all. It
is in fact mandatory. If such a determination is not embodied in our
political vision we have no hope of restoring what is so nearly lost
to us – the dignity of man." Paranjoy Guha Thakurta, his co-authors
and Sucheta Dalal and her colleagues have done their duty as citizens,
writers and as purveyors of truth.
This undemocratic act by these richest persons of our country and the
artificial persons-the companies- they run is totally unacceptable,
deplorable and constitutes an illegitimate advance against citizens'
rights.
Signatories…
1.    Prof. Jayati Ghosh, Jawaharlal Nehru University, New Delhi
2.    Prof Ramsharan Joshi, former VC, M.C.N.University of Journalism,
Bhopal and
journalist
3.    Githa Hariharan, Writer
4.    Garga Chatterjee, Indian Statistical Institute
5.    Seema Mustafa, Editor, The Citizen, www.thecitizen.in
6.    Prof. Ayesha Kidwai, Jawaharlal Nehru University, New Delhi
7.    Arun Kumar, Former Member, Press Council of India (XIth Term), General
Secretary, Bihar Working Journalists Union, Member, National Executive
Committee and Indian Journalists Union
8.    Prof. Kamal Mitra Chenoy, Jawaharlal Nehru University, New Delhi
9.    Siddharth Varadarajan, Journalist & Former Editor, The Hindu
10.  Prof. (Dr) Dr.Mohan Rao, Jawaharlal Nehru University, New Delhi
11.  Wilfred Dcosta, Indian Social Action Forum (INSAF)
12.  Mitali Saran, Writer & Columnist
13.  Subhash Gatade, author and human rights activist
14.  Dr. Malem Ningthouja, Campaign for Peace & Democracy, Manipur
15.  Irfan Engineer, Director, Institute of Peace Studies and Conflict
Resolution, Mumbai
16.  Mukul, Dube, Writer, Photographer and social activist
17.  Gautam Navlakha, human rights activist & journalist, Delhi
18.  Omair Ahmad, Author
19.  Trupti Shah, Activist, Gujarat
20.  Himanshu Thakkar, South Asia Network on Dams, Rivers and People (SANDRP)
21.  Chittaroopa Palit, Narmada Bachao Andolan
22.  Kamayani Bali Mahabal, Feminist and Human rights activist, Mumbai
23.  Faisal khan, National Alliance of People's Movements
24.  Yashwant, Editor, http://bhadas4media.com/, NCR
25.  Pushpraj, Journalist and Author of Nandigram Diary, Patna
26.  Rohit Prajapati, Activist, Gujarat
27.  Xavier Dias, Editor, Khan Kaneej Aur ADHIKAR (Mines, minerals & RIGHTS),
Jharkhand
28.  Prithvi Raj Sharma, founder member of Indian Community Activists network
(ICAN)
29.  Dilip Simeon, Historian and author of Revolution Highway, Delhi
30.  Gopal Krishna, researcher, journalist and social activist,
ToxicsWatch Alliance
(TWA)
31.  Dr Babu Rao Kalapala, Scientist
32.  Dipak Dholakia, Citizens' Solidarity—Forum for Water and
Sanitation (CS-FWS)
33.  Kiran Shaheen, Memoirist and activist
34.  Sudhir Pattnaik, Writer and Media Person, Bhubaneswar
35.  Sankara Narayanan, social activist
36.  Noor Zaheer Zaheer, Writer and Researcher
37.  Preeti Sampat, Anthropologist, City University of New York
38.  Persis Ginwalla, Social activist, Ahmedabad
39.  B.R. Bapuji, Professor (Retired), University of Hyderabad
40.  M. Thimma Reddy, People's Monitoring Group on Electricity
Regulation, Hyderabad
41. Shweta Tripathi, Social Activist
42. R.Subbarao, former Senior DGM, BHEL, Secunderabad
43. Sagar Rabari, Jamin Adhikar Andolan, Gujarat (JAAG)
44. Krishnakant, Social activist, Gujarat
45. Ashok Tankashala, Journalist and Writer, Hyderabad
46. Dr Paresh R. Vaidya, Scientist
47. Roger Moody, Writer & Researcher
48. E. Theophilus. citizen, Uttarakhand
49. Leo Saldanha, Environmental Activist and author
50. Soumya Dutta, Environmental activist, Author & educator, Convenor
– Climate &
Energy, Beyond Copenhagen
51. Nityanand Jayaraman, Writer and Social Activist, Chennai
52. Jai Sen, CACIM, New Delhi
53. Souparna Lahiri, Independent Researcher
54. Ravindranath, River Basin Friends, Dhemaji, Assam
55. Gautam Mody, General Secretary, New Trade Union Initiative
56. Lalit Surjan, Chief Editor, DeshBandhu, Raipur, Chattisgarh
57. Narayan Jee Choudhary, Social Activist, Bihar
58. Sukla Sen, Writer & Social Activist
59. Ranjan Panda, Social Activist, Odisha
60. Shriprakash, Film maker, Jharkhand
61. Stan Swamy, Jharkhand Bachao Andolan
62. Ramaswamy R Iyer, former Secretary, Government of India
63. Rabin Chakraborty, Retired Teacher, Calcutta University
64. Vidyadhar Atkore, Member, Western Ghats Forum, Bangalore
65. R.Selvam,  Co-ordinator, Tamil Nadu Organic Farmers Federation,
Erode District,
Tamil nadu
66. Rajendra K Sail, Social Activist, Chhattisgarh
67. Dr.Gabriele Dietrich, NAPM
68. Suresh Bhat B, Citizen, Mangalore
69. YP Chawla, Researcher, Writer, Advisor, Electricity Regulation
70. Charles Chasie, citizen
71. Dr. S. Jeevananda Reddy, citizen
72. Dr Sudhirendar Sharma, Director, Ecological Foundation
73. Prakash Louis, Indian Social Institute, Bangalore
74. Murli Manohar Prasad Singh, editor, Naya Path, Janwadi Lekhak Sangh
75. Rekha Awasthi, Janwadi Lekhak Sangh
76. Ramesh Sharma, Social Activist
77. M K Tayal, Social Activist
78. Gourinath, Social Activist
79. Krishna Soni, General Secretary, AVARTAN Theatre Group, Hyderabad
80. Rajendra Ravi, Social Activist
81. Sujit Patwardhan, Parisar, Pune
82. Pallav Kumar, researcher
83. Shree Prakash, SUM Net India
84. Bharati Sinha, Communications Director, Greenpeace India
85. Afroz Alam 'Sahil', Editor (Investigation), www.beyondheadlines.in
86. Anil Sinha, Deccan Herald, New Delhi
87. KM Bhai, Social Journalist, Kanpur
88. Pankaj Chaudhary, Poet, Assistant Editor, Forward Press
89. Surendra Grover, Media Durbar
90. Mangalesh Dabral, Poet
91. Sanjeev Kumar, writer
92. Ranjana Bisht, journalist
93. Ramesh Sharma, INSAF
94. Varun Shialesh, Writer
95. Subhash Gautam, journalist & research scholar
96.  Sudha Bharadwaj, trade unionist and human rights lawyer, Bilaspur
Chhattisgarh
97. Ulka Mahajan, Sarvhara Jan Andolan
98. Mukta srivastava, Shoshit Jan Aandolan
99. Dr Dinesh Kumar Mishra, noted river biographer and environmentalist
100. Soumik Banerjee, Researcher & Practitioner, Sundarpahari, Godda, Jharkhand
101. Pankaj Bisht, Writer and editor, Samayantar
102. Qaneez Sukhrani, Social Activist, Pune
103. Fulan Bhattacharji, Citizen, Tripura
104. Nandita Dutta, Citizen, Tripura
105. Suchitra Sarkar, Citizen, Tripura
106. Balaji Pandey, Director, Institute for Socio-Economic
Development, Bhubaneswar
107. Manoj Misra, Yamuna Jiye Abhiyaan, Delhi
108. Udayashankar Chaturvedi, scientist
109. Asit, Writer & Activist
110. Dr. Anant Phadke, Pune, Shramik Mukti Dal, (Democratic)
111. Ashok Jain, former Chief Engineer, DVC
112. Ritu Khanna, Translator
113. Gurmeet Singh, Satnam, Author Jangalnama
114. Nand Kumar Kashyap, citizen, Bilaspur, Chhattisgarh
115.  K. Ashok Rao, President, National Confederation of Officers'
Associations (NCOA) &
Patron, All India Power Engineers Federation (AIPEF)
116. Prathmesh Mishra, Architect, Bilaspur
117. Ravi Singh, citizen and environmentalist, Agra
118. Walter Mendoza, Indian Network on Ethics in Climate Change
*SLAPP refers to Strategic Litigation Against Public Persons to
silence them for good.
The petition can still be signed on
https://www.change.org/en-IN/petitions/citizens-endorse-the-statement-of-concern-on-slapp-cases-filed-against-authors-journalists-and-publishers-available-at-citizensforum2014-blogspot-in

Edit : Edit
Comments : Leave a Comment »

Categories : Business, Legal, Media, Opinion, Philinthrophy, Politics
24072014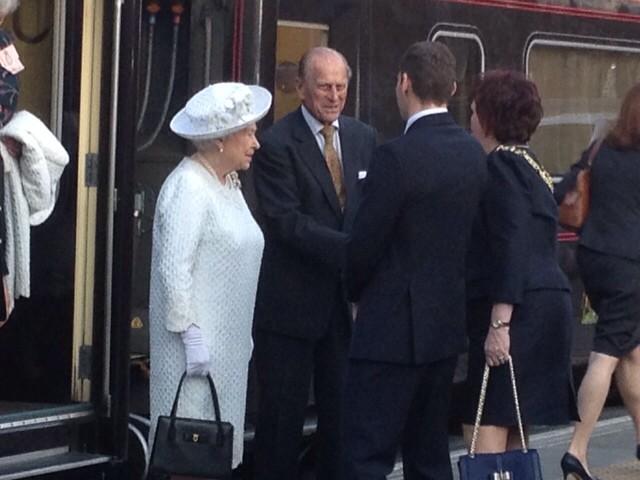 Scotland rolled out a spectacular opening ceremony on Wednesday with dazzling and colourful display of their unique culture and heritage on a breathtaking night, which also had some Indian flavour to set the stage for the 20th Commonwealth Games in Glasgow.
Glasgow suddenly sprang to life and exuberance with a three-hour mesmerizing show of light and sound and colourful hues which the organisers claimed was watched by more than one billion people.As per convention, the head of Commonwealth countries Queen Elizabeth II declared the Games Open."It is my greatest pleasure to declare the 20th Commonwealth Games open" Her Majesty said under a blue Glasgow sky to signal Scotland's third CWG and first after 1986 when Duke of Edinburgh played host. British Prime Minister David Cameron, Scottish government first minister Alex Salmond and Commonwealth Games Federation President Prince Imran Tunku also added to the start of Scotland's biggest sporting event which is estimated to have cost the host country around one billion dollars.Britain's all time most successful Olympian cyclist and a Scottish himself, Sir Chris Hoy was given the honour of presenting the Queens Baton to Her Majesty who read out her message to the Commonwealth before declaring open the Games to be competed for 11 days among 4929 athletes from 71 nations and territories of the erstwhile British Empire.India had their slice of attention with cricket icon Sachin Tendulkar turning up in a brief video clip, urging people to donate for the improvement of the living condition of children throughout the world in his role as the Global Goodwill Ambassador of UNICEF which partnered with Glasgow 2014 in a first-of-its-kind initiative.
The Indian contingent headed by flag bearer and Olympic silver medallist shooter Vijay Kumar led the Parade of Nations, by virtue of being hosts in 2010 Delhi edition, as the men looked dapper in black blazers and gray trousers along with head gear while the women athletes wore sari's.
The 35,000 capacity Celtic stadium cheered as the Indians entered with the tune of popular Bollywood numbers 'nagada nagada' and 'pyar do' filling the Glasgow air.
England also got a rousing welcome despite the Games being held a few months before the Scottish vote on September 18 to decide whether they will remain as part of United Kingdom or become a separate nation.
The host country contingent, dressed in their traditional attire and walking under their flag Saltire, understandably got a deafening reception while coming in last.
With the packed crowd joining in singing and dancing along with the exuberant volunteers and even the athletes, the laser lights beamed the colours of the national flags of the participating countries in the nearly 50-minute Parade of Nations setting the stadium in different hues.
The centrepiece of the opening ceremony, produced by global specialists of such events Jack Morton Worldwide, was the near-100m wide and 11m high LED screen erected in front of the South Stand at Celtic Park to broadcast images on the night.
The installation of the giant LED screen, touted to be the largest used in Europe for such events, led to the reduction of the stadium from 40,000 to 35,000.
The turf of the home of Scotland's famous football club Celtic was completely covered by wooden flooring for the opening ceremony which saw more than 2,000 volunteers taking part in it and broadcast live on BBC.
The vibrant show began with a three minute and 40 minute section called Glasgow's countdown, with a graffiti of number 14 shown on the screen to mark the 2014 Games. It was given the name 'Glasgow Countdown' because it was made by the people of the city.
After the city, it was about the host country in a funny depiction of 100 things about being Scottish in an eight and a half minute segment called the 'Kingdom of the Scots' with Scottish comedian Karen Dunbar and Glasgow-born actor John Barrowman taking part in it.
The Loch Ness monster, Glasgow's history of ship-building and the Forth Rail Bridge also featured in the act, which also celebrated the great Scottish inventions.
Having depicted all about Glasgow and Scotland, it is now time to think about the world.
Karen Dunbar came out once again to welcome the lively and celebrating crowd before cutaways of Glasgow Green, QBR approaching Glasgow and cheering to the athletes are shown in a one and a half section.
The stage was then set for an exhilarating music and song with Glaswegian singer Amy Macdonald singing Rod Stewart's 'Rhythm of My Heart' before the rock legend joined himself to the deafening cheer of the spectators.
The flags of 2010 host India, current host Scotland and next edition host Australia were shown together on the giant LED screen before CGF chief Imran Tunku, 2014 Glasgow chairman Lord Smith of Kelvin and chief executive Michael Cavanagh was called on the centre of Main Performance Arena.
It was then Her Majesty Queen Elizabeth who made a dramatic entry into the stadium along with the Duke of Edinburgh in her Royal car after Susan Boyle's "Mull of Kintyre" number gave way to the 'Pipe and Drums' of the Scottish Regiment.
India aims top three finish in Glasgow Commonwealth Games
The unprecedented success achieved in the last edition would be hard to replicate this time after the dropping of a few disciplines but upbeat after getting back in the Olympic fold, a 215-strong Indian contingent would nonetheless seek a top-five finish in the 20th Commonwealth Games which began in Glasgow on Wednesday.
India finished second behind Australia with a record 101 medal haul in New Delhi in a Games marred by corruption scandals and construction delays but praised for the stunning success in terms of delivery of the event and performance by the athletes.
The Delhi CWG triggered an ascent in sports achievements with another record-breaking show in the 2010 Asian Games in Guangzhou where India won 65 medals.
Two years later, the country won six medals in London, almost half of the individual medals won in the entire Olympic history.
But in Glasgow, the most realistic target for India would be a third-place finish with the top spot expected to go either to Australia or England.
The Games will see 4,500 athletes from 71 nations of the erstwhile British empire compete for the top honours with superstar sprinter Usain Bolt of Jamaica and middle and long distance king Mo Farah of England expected to set the Hampden Park Stadium ablaze.
A total of 261 medal events across 18 sports will be contested across 11 days in the third-biggest multi-sporting event after Olympics and Asian Games. The Games will also include the highest ever number of para-sport events with 22 gold medals up for grabs across five sports.
India, which has sent 215 athletes in 14 sports, its largest ever after 2010 Delhi CWG, will be hit hard by the scrapping of archery and tennis from Glasgow Games and the reduction in the number of medal events in shooting and wrestling.
The country had won a combined 12 medals from archery and tennis in 2010 while bagging 14 medals from the 18 events dropped this time from shooting.
Greco-Roman category in wrestling, from which India won eight medals in 2010, has also been done away with in Glasgow.
With several of the shooters, who had given 30 medals in 2010, also not in peak form, India's medal tally is expected to reduce drastically from the 101 (38, 27, 36) in 2010 and anything above 60 can be considered an achievement.
Finishing second in Glasgow ahead of England, whose athletes are competing under near home-like conditions, is unlikely for India.
The country had finished second in 2010 after winning one gold more than England which though had bagged 31 more medals.
England will also be hurt less than India on account of scrapping of archery and tennis and pruning down of the number of events in shooting and wrestling. Moreover, they did not send many of their top athletes in 2010 because of the 2012 London Olympics.
India and Canada, which has sent a 265-strong team to Glasgow, it's largest ever for a non-home Commonwealth Games, are expected to fight it out for the third place.
Canada will not be hit hard by scrapping of disciplines as they won just three medals in Greco-Roman wrestling in 2010 while they had a small presence in shooting.
Scotland, which is hosting its biggest ever sporting event and third CWG on its soil, is also expected to do well in front of their home crowd who are also set to watch the likes of Bolt, Farah, women's 100m Olympic champion Shelly-Ann Fraser-Pryce and English cycling champion Bradley Wiggins, the 2012 Tour de France winner, in action.
The fight for the top spot will, however, be intense with England likely to challenge Australia's reign at the top of medal table since 1990. Both Australia and England will each be represented by over 400 athletes.
Australia topped the medal count at 2010 Delhi Games with 177 medals (74, 55, 48) against England's 142 (37, 59, 46) but two years later, Britain won the battle that really counted, clinching 29 gold medals in London Olympics while Australia managed seven, sparking fierce recriminations Down Under.
India, which has more than half of the total two billion population of the Commonwealth countries, has returned with nearly 30 medal winners of the last Games with the likes of Abhinav Bindra, Gagan Narang, Vijender Singh, Sushil Kumar, Yogeshwar Dutt, Krishna Poonia, Ashish Kumar, Achanta Sharath Kamal set to prove their mettle once again.
As usual, shooting is still expected to contribute a major chunk of medals for India despite 18 events being dropped in Glasgow since the last edition.
In Delhi, shooting had given 30 out of 101 medals India won and this time also, the country would look up to the likes of star marksman Abhinav Bindra, Gagan Narang, Vijay Kumar, Heena Sidhu to deliver once again.
India will also find its medal count getting reduced due to scrapping of Greco-Roman wrestling (seven events) from which the country had won four gold, a silver and two bronze. But, India still is expected to win at least 10 medals from wrestling.
Olympic medallists Sushil Kumar and Yogeshwar Dutt will lead the campaign and both, though fighting in new weight classes due to tweaking of categories by world governing body FILA, would be looking for gold in 74kg and 65kg freestyle respectively.
In hockey, the Olympic sport which is most sentimentally attached to the people, India is expected to win at least a medal either from men or women.Indian men won a silver in 2010 CWG after a humiliating loss to Australia in the final and this time they will have to beat either New Zealand or England in the semifinals, if they reach that stage, to make it to the title round.In women's hockey, India will first hope to finish in the top two in their group with higher-ranked New Zealand and South Africa in the fray.
India are also set to lose out medals in athletics, which yielded 12 medals, including two gold, last time. With lack of preparation ahead of the Games and most of the track and field athletes struggling for form, the country may not even reach the half-way mark in the blue-riband sport of the multi-sporting event.
The country may expect four to five medals in athletics with the likes of defending women's discus throw champion Krishna Poonia and Vikas Gowda (men's discus throw) and young Arpinder Singh (men's triple jump) among contenders.
Women's 4x400m relay quartet has an outside chance for a medal while women's discus may give another medal with Seema Punia having a chance in a field which has very few world-class competitors.
In badminton, despite the absence of star shuttler Saina Nehwal, India are expected to do well and almost certain to win a medal in men's and women's singles. Rising star P V Sindhu is the highest-ranked shuttler in women's singles and she can win a gold this time.
In men's singles, with the pulling out of world number one Lee Chong Wei of Malaysia, P Kashyap should win at least a medal if not gold. Another Malaysian Wei Feng Chong is now the highest ranked player left in fray at 19th while Kashyap, bronze winner in 2010 Delhi CWG, is ranked two rungs below.
England's Rajiv Ouseph, who won a silver in 2010 Delhi CWG, is third highest ranker at 27th but he has struggled with his form this season and India's K Srikkanth or R M V Gurusaidutt has the capability to bag a medal.
Defending women's doubles champions Jwala Gutta and Ashwini Ponappa may also get a medal though it will be tough for the Indian pair.
The loss in athletics may be compensated by weightlifting which could turn out to be the surprise discipline for India as the medal tally of eight in 2010 may be surpassed this time. The country's lifters had done exceedingly well in the Commonwealth Championships in November last year.
With weightlifting heavyweight Nigeria coming in Glasgow without much preparation and in the absence of a couple of Malaysian gold winners of last Games, India may get more medals than the eight they won in Delhi though it is difficult to predict the colour of the medals.
Indian boxers may be able to win the same number of seven medals which they bagged in 2010 but unlikely to bag three gold though defending light welterweight (upto 64kg) champion Manoj Kumar (64kg) and 2008 Beijing Olympics bronze medallist Vijender Singh (75kg) are taking part in Glasgow.
For the first time, women's boxing will be introduced in the Commonwealth Games in three weight categories — 51kg, 60kg and 75kg — and the Indians, including former Asian champion L Sarita Devi (60kg) will be in the reckoning for a medal each.
India should also win at least two medals in table tennis. The Indian paddlers had won five medals, including a gold in men's doubles, in 2010. Veteran Achanta Sharath Kamal, who was part of gold-winning pair in 2010, is again leading the Indian campaign.
Gymnast Ashish Kumar won a silver and a bronze in men's vault and floor exercise in the last Games in Delhi but it will have to be seen whether he can repeat that performance in Glasgow while the judokas are also hoping to get at least a medal in their sport which returned to the CWG fold after 2002.
Para athlete Prasanta Karmarkar won a bronze in men's 50m freestyle S9 swimming in 2010 and he is also in the fray again.
Meanwhile, Olympic champions Bolt, Farah and Wiggins headline a host of star names hoping to bury injury problems and selection snubs to strike gold at the Commonwealth Games.
The 20th edition of the Games will officially be opened by Queen Elizabeth II on Wednesday with a ceremony at the iconic Celtic Park, the home Scotland's famous football club Glasgow Celtic.
The Opening Ceremony, to be produced by an international events company Jack Morton Worldwide involved in the Ceremonies for Manchester 2002, Melbourne 2006 as well as the Athens Olympics and the 2010 World Cup, is expected to attract a global audience of more than one billion and is set to feature more than 2,000 volunteers taking part in the event.
Singing stars such as Grammy Award winner rock legend Rod Stewart, host country's Susan Boyle, Amy McDonald and Julie Fowlis will perform on the night in a three-hour show starting 8pm British Summer Time (00:30 IST) .
The Ceremony will also feature a near 100m wide and 11m high LED screen erected in front of the South Stand at Celtic Park to broadcast images on the night.
Attention will then turn to the action itself with Bolt looking to add Commonwealth gold to his six Olympic and eight World Championship gold medals.
However, the 27-year-old will only be running as part of the Jamaican 4x100m relay team as he missed the Jamaican championships which served as the selection meeting for the Commonwealth Games due to injury.
Double Olympic champion Farah is confident of being fit to run both the 5,000m and 10,000m despite pulling out of the Diamond League event in Glasgow due to abdominal pains.
Indian contingent suffered a jolt today with two athletes pulling out of the Commonwealth Games, starting in Glasgow on Wednesday.
Sachin Roby, who was to take part in men's 4x400m relay, has been suffering from Jaundice for the last few days and would no longer be able to participate in the event, while para-athlete Sachin Choudhary has returned home due to deteriorating condition of his ailing father.
Chef de Mission Raj Singh told the Indian media contingent that Roby will be sent home if he is permitted so by the team doctors. "Roby was admitted to a local hospital here and he was diagnosed with jaundice. He was admitted to the hospital for four days," Raj Singh said.
"I have asked the team doctors if he can be sent back home in this condition. If the doctors say yes, then he will be sent home. Otherwise he will have to keep him here," he added.
Indian athletics team coach Bahadur Singh said that Roby will be sent home after a few days when he is cleared by team doctor that he can travel.
"Roby spent three-four days at the hospital due to jaundice and it has been three days since he has been discharged. He cannot take part in the Commonwealth Games as he will need at least one month (to recover)."He is recovering and once the team doctor says he can travel, he will be sent back home," he said.
"We came with six 4x400m relay runners. Now, we still have five members out of which four will run. There is no need for replacement," Bahadur Singh added.Raj Singh also confirmed that Choudhary left for home last night after his ailing father's health deteriorated. Para-sports manager Shankar Iyer said that Choudhary was a medal prospect and he might return here if his father's condition improved.
"Sachin Choudhary is a medal prospect. He told me before leaving Glasgow that he will return for the competition if his father's condition improves," he said.
Para-powerlifting events will be held on 2nd August.Iyer said Choudhary was a late addition to the team, which put the total number of Indian athletes sent to Glasgow to 216.

Edit : Edit
Comments : Leave a Comment »

Categories : sports
24072014
Health Min. @drharshvardhan with a Japanese delegation led by Chairman, Committee on Cabinet, Mr. Masahiko Shibayama. pic.twitter.com/Rfc7y1xWUd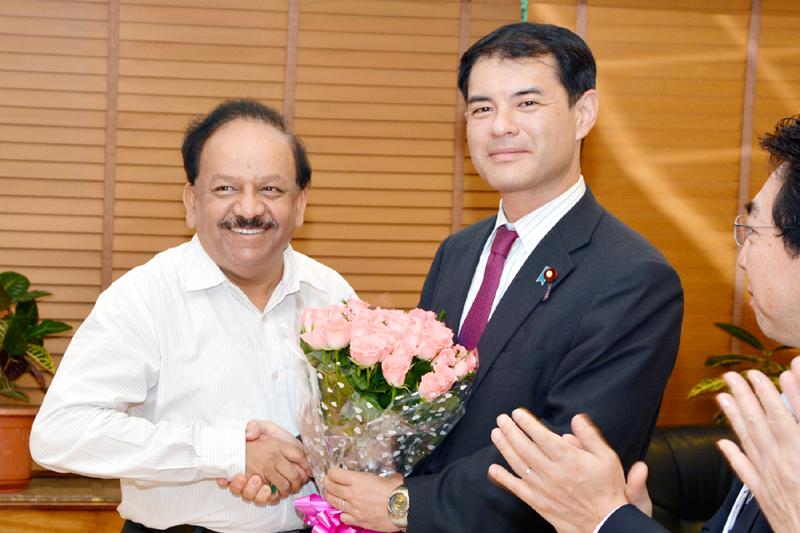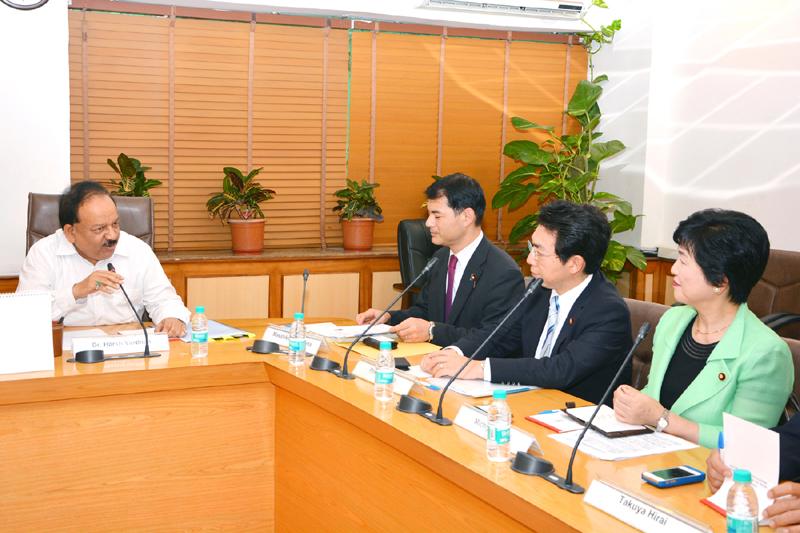 Edit : Edit
Comments : Leave a Comment »

Categories : Uncategorized
24072014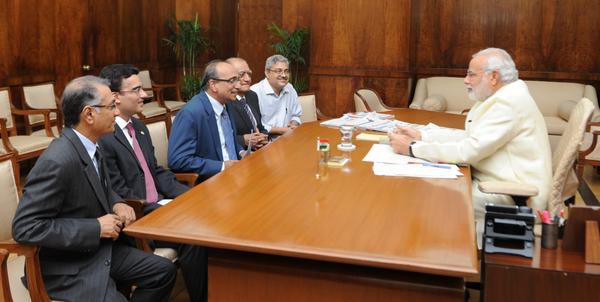 Delegation from Aga Khan Foundation met the PM. They briefed the PM on activities being undertaken by the Foundation