4082014
Felt extremely blessed on offering prayers at the Pashupatinath Temple this morning  pic.twitter.com/t4EK1Yo6AV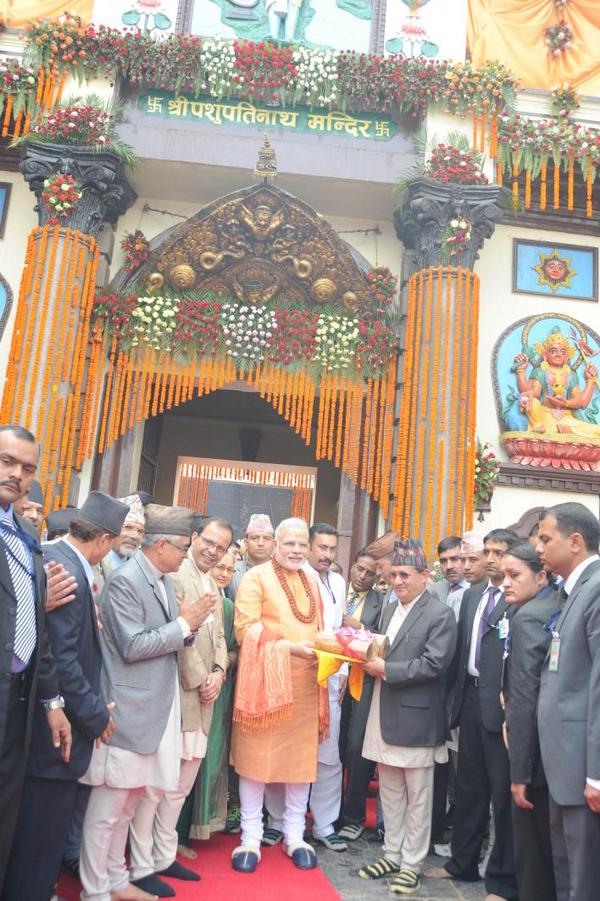 Edit : Edit
Comments : Leave a Comment »

Categories : Uncategorized
4082014
Ravinder Singh
To
chauthidunia@gmail.com
indiaagainstcorruption.2010@gmail.com
chandru_14521@yahoo.com
and 360 More…
Nepal Visit Grand Slam Success of Narendra Modi Government
August04, 2014 (C) Ravinder Singh
ravinderinvent@gmail.com
I am impressed for the first time by Honorable PM on his two day
historic visit to Nepal on first day itself. Like Grand Slam in tennis
it was Great Success in Four Directions – Cultural, Political,
Economical and Natural Resources.Our relations were weak because Nepal and India didn't jointly
developed natural resources mainly water resources of Nepal with
potential to generate 84,000 MW of Hydro Power, more than 100 BCM of
storage for regulating over 250 BCM of Ganga waters originating in
Nepal that shall moderate floods over 40 million hectares in Ganga
Basin including 15 million hectare in Nepal and Bangladesh.
We should integrate Nepal Power Grid with Indian Regional Grids,
Northern, Eastern and North Eastern and undertake rapid
electrification of Nepal.
Tourism potential of Nepal was at the time of writing was missed –
with improved infrastructure and electrification over 100m Indians
shall be visiting Nepal in 4-5 years. Uttarakhand received 40-50m
tourists before last years' tragedy.
Railway is another area of development – India may build 1000
kilometer railway line across Nepal connecting all Nepal regions to
India connecting with railheads in India.
India may adopt latest construction technologies to Expeditiously
Develop 84,000 MW hydro power. This shall require over $120b
investment.
In all projects to be executed in India in Nepal in next 10-15 years
shall exceed $200b that shall create over million jobs.
India should open 10-20 new trade routes or Highway Connections so
that Agro Produce of Nepal – horticulture, food-grains, milk, etc
could find fast access to India.
Ravinder Singh,
Inventor & Consultant
INNOVATIVE TECHNONLOGIES AND PROJECTS
Ph; 091- 9718280435, 9650421857
e.mail; ravinderinvent@gmail.com,
Ravinder Singh* is a WIPO awarded inventor specializing in Power,
Transportation, Water, Energy Saving, Agriculture, Manufacturing,
Technologies and Projects.

Edit : Edit
Comments : Leave a Comment »

Categories : Business, world News
4082014
From: 
Infotechlead <editor@infotechlead.com>
Mon, 4 Aug '14 9:48a
Show full Headers
|
View blocked images

Edit : Edit
Comments : Leave a Comment »

Categories : Business
4082014
Please add hq@thecsf.info to your address book to ensure future delivery.

If the images below do not display correctly, please click here

" Father " Conrad Saldanha in the Mumbai Mirror
The Mumbai Mirror today carried a highly defamatory article, containing various allegations made by "Father " Conrad Saldanha, who insists on calling himself a Catholic priest, while being investigated by Church and Civil Authorities for allegedly serious criminal activities. " Father " Conrad Saldanha has claimed that the Catholic Archdiocese of Bombay has been harassing him and subjected him to inhuman conditions. TheCSF understands that this is a bid by " Father " Conrad Saldanha with the help of his influential " Christian " friends to deflect action against him, as demanded by many, including a call to defrock him, in line with Pope Francis' zero tolerance attitude.
It may be mentioned that the Vatican rejected " Father " Conrad Saldanha's initial appeal. Hence, in what seems to many, to have the best of both worlds, " Father " Conrad Saldanha appealed for a second time, while continuing to look as if a priest, but refusing to subject himself to any Archdiocesan authority.
The Catholic Church, if anything, seems to be paying the price for reaching out to him in various ways, in true Christ-like spirit, which saddens us. The CSF stands by the Catholic Church and urges one and all to pray for " Father " Conrad Saldanha and his disciples, while forgiving them for the damage they have done to the Church and the community.
Please find below the Official Archdiocesan communication on the subject, which is being published simply because it did not make the news.
http://archdioceseofbombay.org/news/diocesan/press-response-fr-conrad-article-mumbau-mirror
Press response to Fr. Conrad article in the Mumbai Mirror
We are disappointed in the way that Mumbai Mirror has reported the case of Fr. Conrad. Inspite of providing the newspaper with a detailed reply, they have chosen to pick a few random statements to explain the situation regarding Fr. Conrad.
It is necessary here to first understand that Fr. Conrad has been uncooperative and uncommunicative with all who have tried to reach out to him from the very beginning, and one gets the impression that he is not interested in remedying the situation.
Since Fr. Conrad has gone public, we need to make a few points clear by way of background.
The Archdiocese received allegations of serious misconduct by Fr Conrad Saldanha. An inquiry was conducted and, based on the findings of the inquiry committee, appropriate remedial measures were imposed. These remedial measures included a guided retreat and therapeutic counselling in Bangalore. Both these remedial steps were to help Fr. Conrad reintegrate himself with the Church and the community he serves. Fr. Conrad, till date, has refused to accept and undertake these remedial measures. Instead, he has appealed to Rome against the decision. Rome (i.e. the Vatican) rejected the appeal. Fr Conrad has made a second appeal to a higher competent authority. This appeal is under due process and it would not be appropriate to comment on it.
With regard to some of the points raised by Fr. Conrad in the newspaper, we wish to state that if Fr. Conrad is really serious about resolving the issues he has raised, then he could have engaged in a dialogue with the competent authorities: the past or present Rector or Administrator of the Seminary. Since Fr Conrad did not approach the competent authorities of the Seminary, it was decided at a staff meeting to delegate a staff member to approach Fr Conrad on behalf of the Seminary and ask him if he had any requirements. When the staff member spoke to Fr Conrad about this, Fr Conrad replied, "I'll see about it." Till date, Fr Conrad has not communicated his response to the staff member.
With regards to the cleaning of his room, we wish to put on record that, on numerous occasions, a person has been sent to clean Fr. Conrad's room. Fr. Conrad refuses to open the door for the cleaning person and at times has made the person wait outside for over forty minutes. We wish to clarify that as priests we are called to serve and cleaning one's own room is not demeaning or degrading in any way – every priest knows and is happy to take care of his personal surroundings, sometimes even over and above the basic requirements.
The photograph of the dirty washbasin says a lot about Fr. Conrad's personal habits and hygiene.
Fr Conrad has definitely not been confined or restricted in his movements (the fact that he has engaged a personal lawyer and has been in contact with a newspaper bears this out!). He goes out as he pleases and does not inform the telephone operator when he will return. Hence, the operators are sometimes unable to tell a caller or guest whether he is in or out.
Fr Conrad does not inform the kitchen about when he will return and hence they are unable to gauge as to when he will take his meals.
As children, we are always taught not to waste food and so eating what is left over is something that comes quite naturally to all of us. The question of Fr. Conrad only being served leftover food is untrue as all the staff members and residents gladly finish the leftovers too. Fr. Conrad, on the other hand, eats before everyone one else and so enjoys first servings, not leftovers. He is invited on all festive occasions to join the Seminary staff for meals but has, so far, chosen not to join in.
Cardinal Gracias had made more than one attempt to reach out to Fr. Saldanha. For this, he met Fr. Saldanha in person in order to engage in an amicable dialogue and to ascertain if there was another place at which Fr. Saldanha would like to reside. The latter indicated that he would think about it. It seems evident that Fr.Conrad does not wish to resolve his situation as all attempts to reach out to him have been met with silence and at every meeting he has been uncommunicative and unresponsive.
It takes two to dialogue and resolve a situation. The Catholic Church and the authorities have reached out to Fr. Conrad. He needs to reciprocate in like manner.
– internet
This email was sent to nksagar_1@yahoo.com.

Edit : Edit
Comments : Leave a Comment »

Categories : CSR, culture, Education
4082014
Cultural Program
To
Undisclosed Recipients
ISTITUTO ITALIANO DI CULTURA DI NEW DELHI  – INCONTRI IN BIBLIOTECA
Nuovo cinema Italiano/ New Italian Cinema: Opere Prime/Debut Films: 2008-2013
7 maggio/May – 6 agosto/August 2014
Tutti i mercoledì / Every Wednesday @ 18.30
WEDNESDAY 6th AUGUST 2014 AT 6.30 P.M.
Mercoledi/Wednesday, 6th August
DIVERSO DA CHI? (Different from whom?)
Regista/Director- Umberto Carteni
Commedia / Comedy
2009, 102 min.
Cast: Luca Argentero, Claudia Gerini, Filippo Nigro, Antonio Catania, Francesco Pannofino
6:30 p.m., Wednesday, 6th August 2014
Piero e Remo vivono in una città del nord-est italiano e sono una coppia gay dichiarata. Per testimoniare il "diritto alla diversità", Piero decide di scendere in campo alle primarie del centrosinistra e, per una serie di circostanze, si trova ad essere candidato a sindaco della città tra i pregiudizi degli avversari e lo sgomento dei sui compagni di partito. / What happens when an openly gay man decides to run for mayor in a super conservative town in North Eastern Italy , using his homosexuality as his secret weapon? What would happen if during the electoral campaign, our hero falls in love with his right hand man who happens to be a … woman?
http://www.iicnewdelhi.esteri.it/IIC_NewDelhi/webform/SchedaEvento.aspx?id=1006
Venue: Tessitori Hall of the Italian Embassy Cultural Centre in New Delhi
Entry Free: For security reasons please show your valid Photo Identity Card.
For more information, please visit our websitewww.iicnewdelhi.esteri.it/IIC_Newdelhi
Follow us on www.facebook.com/Istituto-Italiano-di-Cultura-New-Delhi
---
Italian Embassy Cultural Centre
50- E, Chandragupta Marg (Entry from Nyaya Marg)
Chanakyapuri, New Delhi – 110 021
Phone: 0091-11-26871901/03/04
www.iicnewdelhi.esteri.it

Edit : Edit
Comments : Leave a Comment »

Categories : Entertainment
4082014
Invitation for the Germany Indiapool Workshop in New Delhi on 05th August 2014 at The Taj Mahal Hotel
From: "Mittal, Prerna" <Prerna.Mittal@germany.travel> Mon, 14 Jul '14 3:53p
To: You
Show full Headers
1 attachment
Dear Mr. NARESH KUMAR SAGAR,
ENKAYSAGAR HOLDING P LTD
Greetings from the German National Tourist Office, India! 
The German National Tourist Office requests the pleasure of your company at theDiscover Germany India Pool Workshop in New Delhi on 05th August 2014 at the The Taj Mahal Hotel. Please join us as we showcase 'Destination Germany' for you followed by Lunch.
Date:       05th August, 2014

Venue:    Diwan I Am & Diwan I Khas
The Taj Mahal Hotel
Number One Mansingh Road
New Delhi – 110 011
Telephone: +91 11 66566162
Time:  10:00 hrs – 14:00 hrs
10:00 – 10:30                   Registration
10:30 – 12:00                   B2B session
12:00 – 13:00                   Presentation and Q&A Session
13:00 – 14:00                   B2B Session Continued
14:00 onwards                 Lunch
Experience Germany like never before, come and meet our Germany – India pool partners. Be a part of the Germany experience and you could win exciting prizes and hotel overnights in Germany.
We look forward to welcoming you on 05th August 2014. May I request you to send me a line confirming your presence at the event, please send in your registrations at your earliest to Ms. Chandni Chhabra (+91 8588839058) atchandni.chhabra@germany.travel  or Ms. Prerna Mittal (+91 9810190021) at prerna.mittal@germany.travel  or Ms. Anika Tandon (+91 9873451077) at anika.tandon@germany.travel.
 The Panel includes-
Representative from Cologne, Germany
Representative from Stuttgart, Germany
Representative from Baden-Baden, Germany
Representative from Maritim Hotels, Germany
Representative from Lufthansa Airlines, India
Representative from The German National Tourist Office, India
Please feel free to contact us for any further clarifications.
Look forward to meeting with you.
Thank you & Best Regards,
Prerna Mittal
Assistant Manager Sales & Marketing
The German National Tourist Office
C/o Airplus Travel Services Pvt. Ltd
704, 7th Floor, Surya Kiran Building
Kasturbha Gandhi Marg
New Delhi- 110001
Telephone +91 11 49371024 Telefax +91 11 49371015
prerna.mittal@germany.travel  Mobile +91 9810190021
Become a Fan

Edit : Edit
Comments : Leave a Comment »

Categories : Media