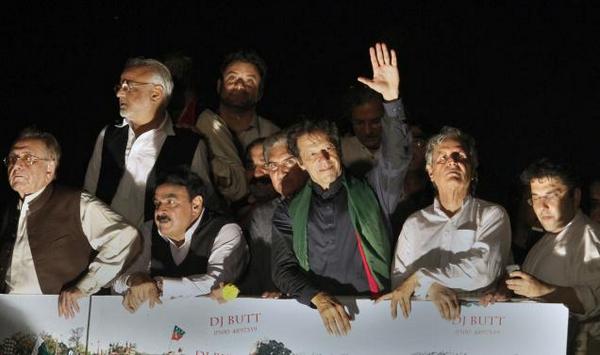 In Pakistan, Prime Minister Nawaz Sharif has decided to meet opposition leader Imran Khan to end the anti-government protests in Islamabad seeking his ouster.Sharif's decision came after Khan threatened to storm the Prime Minister House if he refused to step down by today.
In a tweet, Railways Minister Khawaja Saad Rafique, a close aide of Prime Minister Sharif said, Mr Sharif will meet Imran Khan for the sake of the country. Rafique, however, did not give the time for meeting. It is hoped that Sharif will offer Khan a full audit of ballots to address his concerns about rigging in last year's poll which Pakistan Tehreek-e-Insaf party lost.
Earlier, Khan said, if Prime Minister Sharif does not resign, then protesters will enter his house.
Khan is leading thousands of anti-government protesters who entered the heavily fortified high security zone and set up camp in front of the Parliament House.
Meanwhile, the military called for calm after protesters breached the Red Zone that houses important government buildings including the Parliament House, Prime Minister House, President House, the Supreme Court besides embassies.
The military has asked all stakeholders to resolve the impasse through meaningful talks.