26082014
To let  this happen will be more  worryingly, is the possibility that the technology will be used to develop even more dangerous weaponry.
Further  South China Morning Post (SCMP), the super-fast technology was developed by scientists at the Harbin Institute of Technology, and would allow underwater submarines or torpedoes to exceed the equivalent speed of sound under water – about 3,600 miles per hour.
The idea is based on the old Soviet concept of supercavitation, which involves creating a large air bubble around an object so that it could avoid facing too much friction and travel through water quickly.
Professor Li Fengchen said that when the vessel hits the water, one of its mechanisms continuously sprays a "special liquid membrane" all over the object's surface. This membrane eventually wears off, but by the time the vessel reaches 46 miles per hour, it's going fast enough to enter supercavitation state and generate an air bubble capable of helping it cover previously unknown distances.
"Our method is different from any other approach, such as vector propulsion," Li told SCMP. "By combining liquid-membrane technology with supercavitation, we can significantly reduce the launch challenges and make cruising control easier."
In theory, this means a trip across the Pacific Ocean would take only 100 minutes, while a transatlantic voyage could be undertaken in less than an hour.
Despite the claims of progress, Li added that there are still significant hurdles scientists have to overcome, such as creating precise steering controls and an engine strong enough to power the whole operation.
Many details surrounding the technology remain unknown, since the project is still categorized as a military secret. Supercavitation could still be used to create fast-moving torpedoes and other weapons, and the US, Russia, Germany, and Iran are all working on the same issue.
Still, Li said there could be ways to use the breakthrough to benefit more than just militaries. It could pave the way for fast underwater transportation, or help create swimsuits that allow for unprecedented mobility.
"If a swimsuit can create and hold many tiny bubbles in water," he said, "it can significantly reduce the water drag; swimming in water could be as effortless as flying in the sky."
RT News

Edit : Edit
Comments : Leave a Comment »

Categories : Uncategorized
26082014
Poroshenko has called on "democratic forces" in Ukraine to enter the elections as a united "pro-Ukrainian, pro-European team," Tsegolko's Facebook post states adding that the Rada was dismissed "because it is the only right and responsible decision."
"The Fifth Column in the parliament consists of dozens of so-called people's deputies. But they don't represent the interests of the people, who elected them, but the interests of some other people," the statement said.
Neither Poroshenko's nor the Verkhovna Rada's official websites contain any messages giving details. However, the official Twitter account of the President's Administration also states the one-chamber parliament is dismissed.Poroshenko, who came to power in Ukraine on June 7, declared his intention to hold early parliamentary elections in his inauguration speech before the Rada.Media agencies

Edit : Edit
Comments : Leave a Comment »

Categories : Business, Politics
26082014
​Netherlands to recall Patriot missile systems from Turkey
The Netherlands will not extend its mission to deploy two Patriot missile defense systems in Turkey once the current contract expires in 2015, the country's defense ministry said. One of the reasons named by the ministry to return the complexes home, is the need for their repair and maintenance which cannot be done in Turkey. Six Patriot missile batteries are currently operating under NATO command and control in southern Turkey, allegedly to protect Ankara from attacks coming from neighboring Syria. Two Dutch batteries are operating in Adana, two German batteries are in Kahramanmaras and two batteries from the United States are located in Gaziantep.
US, NATO to blame for Libyan unrest – Moscow
The current turmoil in Libya is a direct consequence of the interference of the US and its NATO allies, the Russian Foreign Ministry said. "We can say that the political process of creating a modern state in Libya on the ruins of the Muammar Gaddafi regime ousted in 2011 has finally come to a standstill," the ministry said. The Libyans are now paying for Western involvement with "lives of thousands of civilians and social economic infrastructure of the state lost during bloody civil strife," it added. Over the weekend, the Islamists seized the airport in the Libyan capital, Tripoli, and proclaimed their own government.
Pentagon's second test of hypersonic missile fails after takeoff
The Pentagon's second test of an advanced hypersonic weapon failed shortly after takeoff early on Monday, the Washington Free Beacon said. "Due to an anomaly, the test was terminated near the launch pad shortly after liftoff to ensure public safety," the Pentagon said in a statement. No injuries to any personnel were reported after the test was carried out from the Kodiak Launch Complex on Kodiak Island off the southern Alaskan coast. The weapon is a key part of the Pentagon's strategic program of building arms that can attack any point on earth in 30 minutes.
2 killed, several injured in explosion at Illinois recycling plant
Two people were killed and more were injured after an explosion at a recycling plant in southern Illinois, Granite City police said. The bomb squad has been sent to the Totall Metal Recycling plant, AP said, citing local television. More explosions, perhaps from live ammunition rounds, are feared. More than 160 people work at the plant, which recycles everything from computers to automobiles. The company also indicated that it deals with the ammunition industry.
Omar al-Hasi appointed as PM after Libya's ex-parliament reconvenes
Libya's previous parliament reconvened on Monday to elect Islamist-backed Omar al-Hasi as prime minister, Reuters quoted a parliamentary spokesman as saying. Islamists had a strong representation in the former legislature, whose term ended with national elections in June. It has refused to acknowledge the legitimacy of its successor parliament, where liberals and federalists dominate.
At least 16 people killed by Israel air strikes on Gaza
Israeli air strikes pounded Gaza on Sunday, killing at least 16 people, AFP said. One of the strikes killed Hamas financial official Mohammed al-Ghul as he was traveling by car in Gaza City, Israel's army and Gaza medics said. A later strike on northern Gaza reportedly killed a mother and four children from the same family, and the day's death toll reached at least 16, including six children.
Syria govt ready to cooperate in anti-terror fight – FM
The Syrian government is ready to cooperate with international and regional efforts to fight terror, Reuters quoted the Syrian foreign minister, Walid al-Moualem, as saying on Monday. Asked if Syria was ready to cooperate with the US and Britain, he said: "They are welcome." However, the minister warned in that case the efforts must be coordinated with Damascus. Moualem, speaking on Syrian state TV, also condemned the killing of US journalist James Foley, who was executed by the Islamic State.
French PM Valls presents govt resignation to president
France's Prime Minister Manuel Valls presented the resignation of his government to the president on Monday, Reuters reported. Francois Hollande's office said a new government would be formed on Tuesday in line with the direction the president "has defined for our country." The resignation comes a day after leftist Economy Minister Arnaud Montebourg called for new economic policies and questioned Germany's "obsession" with budgetary rigor.
Japan to name criteria before offering unapproved Ebola drug
Japan could offer an unapproved drug under certain circumstances to help treat the deadly Ebola virus, Reuters said. "Medical professionals could make a request for T-705 in an emergency even before a decision by the World Health Organization (WHO),"Chief Cabinet Secretary Yoshihide Suga said. "In that case, we would like to respond under certain criteria." Tokyo will cooperate with the WHO and is ready to make an international contribution. Japan's Fujifilm Holdings Corp and US's MediVector are in talks with the US Food and Drug Administration to submit an application to expand the use of the influenza drug T-705, or favipiravir, as a treatment for Ebola.

Edit : Edit
Comments : Leave a Comment »

Categories : Business, Education, world News
26082014
Chief Minister of Goa Shri @manoharparrikar met the Home Minister at North Block today. pic.twitter.com/cp3DI47HQO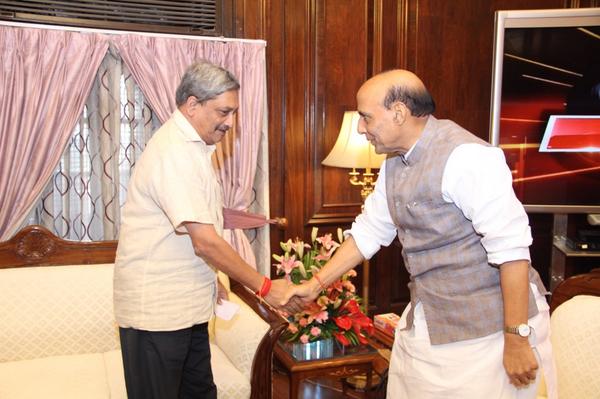 Edit : Edit
Comments : Leave a Comment »

Categories : Uncategorized
26082014
Friends,
Our alertness has yielded results. Good effort has been put up by all of us. Finally the BJP MPs' Monsanto-funded trip to US stands cancelled.
But let us not be complacent. I sense further evil designs ahead. It would be appropriate to suggest some MPs to come up with Questions on this issue in the upcoming Winter Session of the Parliament.
It is clear that the tour was being arranged in a clandestine way. There was no prior permission from the party or the Speaker of Lok Sabha or Parliamentary Affairs Office. Even the Ministry of Home Affairs or the Ministry of External Affairs were unaware of the proposed tour.
Here is the evidence of the Ministry of External Affairs not having any knowledge on the issue. Below is the statement (with LINKS) of the Official Spokesperson of the Ministry of External Affairs, Syed Akbaruddin – 
Question: 
A group of BJP and Shiv Sena MPs are going to the United States at the invitation of Monsanto to look at field trials. This comes in the wake of the Government of India banning anything to do with genetically-modified foods. I am just wondering, since they are MPs from the ruling front were they given political clearances; and after such a ban how is it that political clearances were given.
Official Spokesperson:
 Shrinjoy, I do not know about this. I can always check. I do not know whether what you are saying is factually what the position is, on what basis they have applied for political clearance or not. This is the first time I have heard about this thing. We will check it and if there is anything that we can say, we will do so surely.
Obviously, if people are going to a foreign country as part of a delegation, they require necessary clearances. But it does not follow from that that what you are saying was the basis for the request to visit. So, I will need to check that information before we respond on that.
Cheers!
ASHOK B SHARMA

Edit : Edit
Comments : Leave a Comment »

Categories : Uncategorized
26082014
New Delhi, India, August 25,2014, UNICEF and IDBI Bank have jointly signed a landmark Rs. 2.7 crore (approx. 450,000 USD) partnership. The MoU, signed by Chief General Manager, IDBI Bank,  Mr. R.V Iyer and UNICEF India Representative, Mr. Louis-Georges Arsenault, under Bank's Corporate Social Responsibility (CSR) activity will directly impact the lives of over 80,000 children in 400 schools and Anganwadicentres in UP and Maharashtra. The program will provide improved access to safe drinking water, sanitation and hygiene (WASH) for school-going children, under the "Model WASH in Schools" initiative in these two states.
"The Model WASH in Schools programme demonstrates the effectiveness of integrating critical behaviours such as hand washing, into the world's largest Mid-Day meals program. Evidence shows that access to functional and separate toilets for girls and boys can contribute to a better learning environment, reducing absenteeism and drop-out rates of children in schools, especially girls," said Louis-Georges Arsenault, UNICEF India Representative.
Commenting on the landmark initiative, Shri M.S. Raghavan, Chairman and Managing Director, IDBI Bank said, "IDBI Bank, as a responsible and socially conscientious PSU Bank, has entered into this partnership with UNICEF and the Government of India to support their vision of ensuring that the 110 million children enrolled in 1.4 million elementary schools across India have access to safe drinking water and functional toilets along with imbibing hygienic practices with special emphasis on hand washing. The initiative is also in alignment with the Swachh Bharat Mission, recently launched by the Government of India, under which we are further supporting the construction of 300 gender segregated toilets in schools across India, primarily in rural areas, towards addressing sanitation issues."
Highlighting the role of corporates in supporting child-friendly education in schools, Sue Coates, Chief of WASH, UNICEF India, said, "The partnership is of special significance against the backdrop of Prime Minister, Shri Narendra Modi's recent appeal to corporates to focus on building toilets in schools, especially for girls."
The partnership will encourage schools to implement higher standards of WASH-in-School facilities and the Hygiene Education programme in a child-friendly environment. An evaluation system will be established to monitor the progress in the two states and key learnings will be used to replicate the model across the country

Edit : Edit
Comments : Leave a Comment »

Categories : Business, CSR, culture, Education
26082014
The Competition Commission of India('the Commission') has found14 Car Companies to bein contravention of the provisions of the Competition Act, 2002 ('the Act'). The informant, Shri Shamsher Kataria, had approached the Commission alleging anti-competitive conduct by 3 Car Companies in not allowing the spare parts and after sale services market to grow to the detriment of consumers and independent repairers. In view of prevalence of anti-competitive issues throughout the automobile industry, the Commission directed the Director General(DG) to include other car companies also under the scanner of its investigation.
Ensuing detailed investigation, the Commission found that the conduct of the Car Companies was in violation of the provisions of section 3(4) of the Act with respect to its agreements with local Original Equipment Suppliers (OESs) and agreements with authorized dealers whereby it imposed absolute restrictive covenants and completely foreclosed the aftermarket for supply of spare parts and other diagnostic tools. Further the Commission found that the said companies, who were found to be dominance in the aftermarkets for their respective brands, abused their dominant position under section 4 of the Act and affected around 2 crore car consumers. The 14 car companies were found to be indulging in practices resulting in denial of market access to independent repairersas the latter were not provided access to branded spare parts and diagnostic tools which hampered their ability to provide services in the aftermarket for repair and maintenance of cars. Having a monopolistic control over the spare parts and diagnostic tools of their respective brands, the car companies charged arbitrary and high prices for their spare parts. The car companies were also found to be using their dominant position in the market for spare parts and diagnostic tools to protect their market for repair services, thereby distorting fair competition.
The Commission has prescribed corrective measures to make the automobile market more competitive and to put an end to the present anti-competitive conduct of the car companies. While deciding the case, the Commission was guided by two prime motivations i.e. (i) to enable the consumers to have access to spare parts and to have freedom of choicebetween independent repairers and authorized dealers and (ii) to enable the independent repairers to participate in the aftermarket and provide services in a competitive manner.
Accordingly, Commission, under Section 27 of the Act, directed the car companies to cease and desist from indulging in conduct which has been found to be in contravention of the provisions of the Act. The car companies were also directed to adopt appropriate policies which shall allow them to put in place an effective system to make the spare parts and diagnostic tools easily available in the open market to customers and independent repairers. Further, the Commission directed the car companies not to put any restrictions or impediments on the operation of independent repairers/garages. Other behavioural remedies to ensure a competitive market conditions were also prescribed by the Act.
Commission also imposed a penalty calculated at the rate of 2% of the average turnover of the 14 Car companies amounting to Rs. 2544.64 crores in aggregate. The penalty is to be deposited within 60 days of receipt of the order.
Detailed order can be seen at commission's website http://www.cci.gov.in

Edit : Edit
Comments : Leave a comment

Categories : Automobile, Business, CSR, culture, Education, Environment, Funds, Legal, Media, Trade,Transport