31082014
A Ukrainian cargo plane crashed in the Sahara desert early on Sunday, killing all seven people on board. Algeria's transport ministry said in Algiers that cargo plane Antonov 12, bound for Equatorial Guinea from Glasgow in Scotland was came down near Tamanrasset airport in the early hours on Saturday. Officials at Algeria's transport ministry say the plane crashed about 15 kilometers from the airport in the southern city of Tamanrasset early on Saturday.
It says the plane went down shortly after leaving the airport.The officials say the plane had stopped at another airport in central Algeria for technical checks before landing at Tamanrasset.
Authorities suspect mechanical problems in the Antonov-12, which was developed in the former Soviet Union in the 1950s. Local authorities reported recovering the burned bodies of three crew members from the debris of the aircraft. The search for the rest of the crew is continuing.
Transport Minister Amar Ghoul said the rescue teams did not find any survivors at the crash site and an inquiry into the crash has begun.

Edit : Edit
Comments : Leave a Comment »

Categories : Politics
31082014
 EU sets 'deadline' onto Russian sanctions if Ukraine crisis worsens over next week
At the EU summit in Brussels European leaders have agreed to finalize within a week the new set of sanctions against Russia and undertake other "preparatory work", promising to impose them if the situation in Ukraine remains the same or worsens.
The Brussels summit has decided to ask the EU's executive Commission and its diplomatic service to "urgently undertake preparatory work," European Council President Herman Van Rompuy said. German Chancellor Angela Merkel meanwhile told reporters that the EU would impose new sanctions if there was no change in the situation in Ukraine or if the situation worsened.
The further steps will depend on the situation in Ukraine, which is getting worse every day, according to Van Rompuy. After Kiev over a week ago began losing ground tomilitia protecting the population of east Ukraine, authorities blamed Russia's alleged"military invasion" for the failures, although even Ukrainians themselves admit to extremely poor handling of the so-called "anti-terrorist operation."
Although van Rompuy expressed concerns over the alleged presence of Russian military in Ukraine, European politicians are not planning to supply Ukraine with weapons, German Chancellor Merkel has confirmed.
In the meantime, Slovakia's PM Robert Fico following the meeting slammed the idea of new sanctions as "meaningless and counterproductive" – as the impact of the previous round of tit-for-tat sanctions is still unknown – and reserved the right "to veto sanctions harming national interests of Slovakia."
RT news

Edit : Edit
Comments : Leave a Comment »

Categories : Uncategorized
31082014
The European Union leaders during a summit elected Polish Prime Minister Donald Tusk as President of the European Council,  appointed Italian Foreign Minister Federica Mogherini as the EU's foreign policy chief. Donald Tusk, the center right Polish Prime Minister will be the second president of the European council.
His election reflected a strong desire by EU's eastern countries to finally hold a senior position in the Union. Herman Van Rompuy's current mandate as European Council president will expire on 1st December this year.
European Union leaders  met in Brussels on Saturday to choose the successor to incumbent Herman Van Rompuy.
Tusk will take up the post in December. He told reporters the EU needs to take bold steps to deal with the situation in Ukraine and achieve peace.
Tusk is known for his hard-line stance toward Russia.
He has invigorated Poland's economy since becoming prime minister in 2007.
EU leaders also chose Italian Foreign Minister Federica Mogherini to succeed Catherine Ashton as the bloc's new foreign policy chief in November.
In June they named former Luxembourg prime minister Jean-Claud Juncker as successor to European Commission President Jose Manuel Barroso .

Edit : Edit
Comments : Leave a Comment »

Categories : Uncategorized
31082014
Myanmar's first census in more than 30 years shows the country's population is about 51 million, nearly 10 million fewer than previously estimated.
The government announced on Saturday the preliminary results of the census conducted from March to April.
It shows there are 51,410,000 people in the country. The largest city, Yangon, has the population of 7 million, or about 13 percent of the national total.
The government could not count ethnic minorities in the northern state of Kachin. The survey also excluded Muslims in the west.
Myanmar plans to announce the final results early next year.
International agencies including the International Monetary Fund had estimated the population at about 60 million people. The figure was based on a 1983 survey.
Some analysts say the smaller-than-expected population might make Myanmar a less attractive market.
But government officials say the census should help improve the investment environment as it reveals specific figures, such as the number of people in different areas and in each generation.

Edit : Edit
Comments : Leave a Comment »

Categories : Business, CSR, culture, Education, Energy, Environment, health, Media, Politics
31082014
Information Minister Pervaiz Rashid has  said the government had positive talks with Imran Kahn and government next round of  talk will take place today on Sunday.Imran did not trusted the government and has provoked his followers, Minister forther said Talks to continue in the interest of the nation as reported in pak media.
Rally of tens of thousands of people initiated on 15 Aug 2014 nearly have now  spent two weeks rallying in the capital, Islamabad. They're demanding the government of Prime Minister Nawaz Sharif step down.
The 2nd largest opposition party and a Muslim group are leading the demonstrations. They've accused the government of rigging last year's parliamentary election.Security forces on Saturday night fired tear gas at protesters as they began marching to the prime minister's official residence.
Staff at hospitals say they treated more than 200 people for injuries. They say some people had wounds from rubber bullets.Pakistan's Interior Minister Nisar Ali Khan defended the actions of security forces. He said they responded lawfully when a group of protesters tried to occupy government buildings.But the opposition leader said security forces broke the law. He vowed to launch nationwide protests on Sunday.
Government and opposition leaders had earlier held talks in a bid to end the political standoff, but they failed to reach an agreement.Two persons were killed and about 450 others injured overnight when police baton- charged hundreds of anti-government protesters led by Imran Khan and Tahir-ul-Qadri who marched towards Prime Minister Nawaz Sharif's residence demanding his resignation.
The clashes started after Tehrik-e-Insaf chairman Khan and Awami Tehrik chief Qadri yesterday ordered their hundreds of supporters to shift the protest venue in the front of the residence of Prime Minister Sharif to force him to quit.
Police fired tear gas shells and rubber bullets to disperse the protesters outside the prime minister's official residence and the adjacent parliament building.
Hundreds of protesters entered the lawn of parliament but they were pushed back at the main entrance of the building where army was deployed. About 450 injured were brought to Polyclinic and Pakistan Institute of Medical Sciences, the two premier state-run hospitals, a government official said.
A police official said over 70 policemen and five Frontier Constabulary personnel were injured in clashes with protesters armed with sticks, catapults and stones.
Dr Ayesha Isani of the Pakistan Institute of Medical Sciences hospital told reporters that a man brought to the hospital late last night had passed away. She confirmed that earlier a man was brought dead to the hospital who had drowned by falling into a trench.
So far the protesters failed to break into the security cordon and reach the PM House. Khan was present in his container mounted on a truck and frequently addressed his supporters.
He said he will register cases against the Sharif brothers and interior minister Nisar Ali Khan for ordering crackdown on protesters. His party leader Pervaiz Khattak said that they will not stop until Sharif resigns, as the protest entered 18th day.
Qadri today emerged from his container and addressed the supporters in husky voice which he said was due to effect tear gas. "I salute my sons and daughters who won today," he said without explaining.He promised to make another speech later on and vowed to continue to struggle till final victory of "revolution".
Fearing backlash from protesters, roads leading to Prime Minister Sharif's Lahore residence, where he is currently residing, have been blocked and heavy contingent of police deployed. His brother and Punjab Chief Minister Shahbaz Sharif is also living there. Pakistani military has emerged as a mediator in the political standoff between the government of Prime Minister Nawaz Sharif and opposition demonstrators.
The 2nd largest opposition party, the Pakistan Movement for Justice, and a Muslim group have been staging massive demonstrations in the capital Islamabad for 2 weeks. They say last year's election was rigged and are calling on Sharif to step down as prime minister.The government and the demonstrators have held talks but failed to reach a settlement.The opposition side said on Thursday that they will accept the army as a mediator. The army has also apparently gained the government's approval. It will reportedly propose a solution by Friday evening.
Sharif was ousted in a coup during a previous stint as prime minister in 1999. The military and Sharif are on awkward terms. Analysts say the army may make strict demands on the prime minister.

Edit : Edit
Comments : Leave a Comment »

Categories : Business, Media
31082014
The Prime Minister, Shri @narendramodi meeting the Governor of Kyoto Prefecture,Mr Keiji Yamada in Kyoto, Japan. pic.twitter.com/ROvi1pG9MM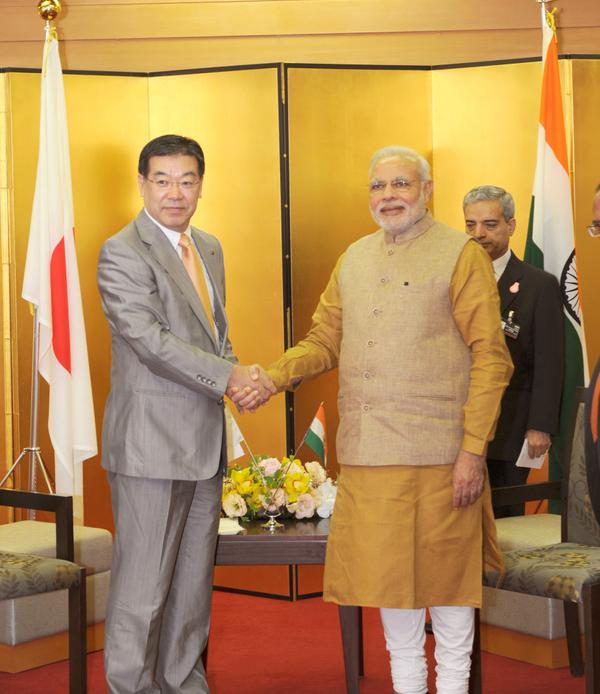 Prayer for peace!
PM Narendra Modi meditating in the tranquility of the Kinkaku-ji (Golden Pavilion) Temple in Kyoto.
Varanasi map for its partner Kyoto. PM @narendramodi as representative of Varanasi gifts map of city to Kyoto pic.twitter.com/S5NUP61EHg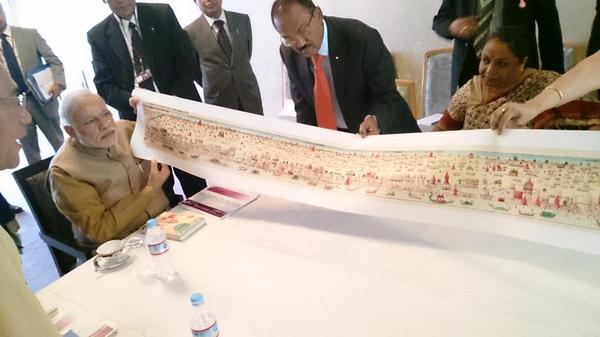 Visited Toji Temple (Kyoto) with PM Abe
Sharing some glimpses of my visit to the Kinkaku-ji Temple in Kyoto
Prime Minister Narendra Modi during his five day maiden visit to Japan has emphasized that his country wants to strengthen ties with Japan. He highlighted the fields of economy and security.
Modi stressed the importance of Japan-India ties. He said that closer and more open bilateral relations will benefit Asian countries and in turn the whole world.In reference to India's flagging economy, Modi asserted the time has come to put a halt to the recession and spur the economy.
Modi called Japan an important economic partner. He expressed a willingness to proceed with deregulation and actively attract investment from Japan and other nations.Modi wants to ensure concrete cooperation on issues during his time in Japan and his talks with Japan's Prime Minister Shinzo Abe.Negotiations include a civilian nuclear power agreement that would allow Japan to provide nuclear energy technology to India, and the importing of a Japan-made US-2 rescue amphibious aircraft.Modi will also discuss a planned high-speed railway network in his country. Japan wants to sell its Shinkansen bullet train technology to the project.
Modi also said he wants to strengthen bilateral security cooperation at many levels. This includes the holding of regular joint drills between Japan's Maritime-Self Defense Force and the Indian military. reports Japan media
Opinion by political experts is that Japan and India where two countries have diverse culture of great significance.Japan is famous for its work culture where society gives utmost respect to the person engaged in actions and this virtue along with their preference to the performers and intellectuals creates more innovates,creative people ,In India where past glory of traditional wisdom is stuck  with lusty greedy,nepotism and pretentious actions and selfish along with money making glorified sermons  helping certain communities have taken toll of India poor development or an oasis like development in vast oceans.
 Japan and India both have much to gain from a visit by Prime Minister Narendra Modi and more than a dozen Indian steel, energy and IT tycoons that begins today in the ancient capital of KyotoThe two countries have complementary economies, given Japan's wealth and technological prowess and India's natural resources and drive to modernize its economy.So far, though, they have failed to capitalize much on those mutual interests.The two countries signed an economic cooperation agreement in 2011 that is gradually dismantling tariffs, but trade between the two despite gains remains a tiny fraction of their overall import and export flows.That's partly because of India's restrictive policies toward foreign investment and partly because Japanese companies have been so focused on China.Analysts expect Modi's visit with Prime Minister Shinzo Abe to yield some substantial agreements, and possibly a long-awaited deal on cooperation in nuclear power generation technology.But in the long run, Modi must deliver on promises to improve his country's investment environment while balancing India's growing engagement with both Japan and rival China.In the run-up to their meeting, Abe and Modi have been exchanging endearments on Twitter."I deeply respect his leadership & enjoy a warm relationship with him from previous meetings," Modi wrote of Abe, adding that he hoped to take to take the relationship "to a new level.""India has a special place in my heart. I am eagerly waiting for your arrival in Kyoto this weekend," tweeted back Abe, who is taking the unusually cordial step of traveling to Kyoto to escort Modi and his delegation before they fly to Tokyo late on Sunday.Since taking office in late 2012, Abe has been trotting the globe to help clinch big contracts for Japanese industrial giants like Hitachi and Mitsubishi Heavy Industries, as part of his "Abenomics" agenda to help restore the country's economic dynamism.India, which plans to spend USD 1 trillion on roads, railways and other infrastructure in 2012-2017, is a VIP customer.And Modi will be trying to woo Japanese investment in three of his favorite projects, including railway modernisation, an industrial corridor between New Delhi and Mumbai, and a plan to build 100 "smart cities" with high-tech communication facilities and modern infrastructure."Who is a better expert in bullet train technology than Japan?" said Kunal Singh, a researcher at the Center for Policy Research, a New Delhi think tank.The financial newspaper Nikkei reported on Thursday that the two sides may also expand cooperation on India's mining of rare earths, as Tokyo diversifies away from a longstanding reliance on China for the minerals used in many high-tech applications.
On the second day of his Japan tour, Prime Minister Narendra Modi today visited two prominent ancient Buddhist temples- Toji and Kinkakuji offering prayers and mingling with the common people and tourists.
The dress-conscious Modi was attired in all-white kurta pyjama, sleeveless jacket and white sandals when he visited the temples, apparently to send out a message of solemnness of the occasion.
In Kinkakuji, the Prime Minister mingled with tourists and visitors, shook hands, pulled ears of a child and posed for photographs with groups of people.
He began his day with a visit to the ancient Toji Temple, which is inspired by the trinity of Brahma, Vishnu, Mahesh of Hindu philosophy. He was accompanied by his Japanese counterpart Shinzo Abe when he went around the famous temple which is a UNESCO world heritage site.
Modi was at the temple complex for about half an hour during which he enquired about the history of the eighth-century Buddhist pagoda. Chief Monk Mori took the Prime Minister around the complex having wooden temple including the five-storied main pagoda.
"I am Modi, you are Mori," he told the chief priest Yasu Nagamori jokingly after reading name on his Identity card. The main pagoda stands 57 meters tall, making it the tallest pagoda in Japan, and has become a symbol of both the temple and Kyoto as it can be seen from many places across the city.
While leaving the complex, Modi thanked Abe for accompanying him to the temple and spending time with him. Abe, on his part, told Modi that this was only the second time that he had visited Toji temple, the last being during his student days.
The Japanese Prime Minister had specially come here from Tokyo to meet Modi and be with him. Monk Hasi, who also accompanied Modi at Toji temple, said: "We are happy that the Prime Minister visited us.
It is a matter of pride for our temple. He has a big heart". Earlier, a number of Indians carrying the Tricolour had gathered at the temple to see Modi, who went and shook hands with the excited crowd.After Toji, Modi went to gold leaf-coated Kinkakuji temple.
The current form of the temple was unveiled in 1955, five years after the 14th-century original was torched by one of the temple's monks. He offered prayer at the Buddhist temple and then went around the lake and garden surrounding it. He also enquired about the history of the temple. While taking a round of the complex, he mingled with visitors and posed for photographers with some of them.
He also surprised a child of around 10 years by suddenly pulling his ears and photographers obliged by clicking it. Foreigners visiting the temple were excited at seeing the Indian Prime Minister there. Many were seen clicking him with their mobile phones.
"We have come at the right time," an American tourist was heard telling his companion after learning that Modi is also there. A group of women Japanese visitors, with whom Modi posed for photographs, were very excited by his gesture.
Narendra Modi said that Kyoto city has been able to incorporate modern day technology with heritage. He said that India is also planning to undertake heritage city program, so he wanted to see things in this regard in Kyoto. He thanked his Japanese counterpart Shinzo Abe for spending time with him. Mr. Modi said that Kyoto city has been able to preserve the ancient culture despite all odds. He said, India is also planning to develop heritage cities.
Later, Prime Minister Modi attended a presentation program on Kyoto city. Senior officials also attended the presentation. It may be recalled that both the countries signed a Memorandum of Understanding yesterday to promote heritage conservation, city modernization and in the field of art, culture and education between Varanasi and Kyoto. Mr. Modi also met Keiji Yamada, Governor of Kyoto Prefecture and Chief Executive Officer of Nidec Corporation before leaving for Tokyo.
The Prime Minister will attend official welcome ceremony in Akasaka Palace in Tokyo tomorrow and hold formal talks with his Japanese counterpart. Mr. Modi is scheduled to hold talks with senior ministers of Japan, visit educational institutes and inaugurate Vivekanand Cultural Centre during next two days . He will also call on Emperor Akihito on Tuesday.
Meanwhile, India today discussed with Japan the possible means to study issues related Sickle Cell anemia treatment. Talking to AIR Correspondent in Kyoto, Spokesman of External Affairs ministry Syed Akbaruddin said that Prime Minister Narendra Modi held talks with Nobel laureate Prof Yamanaka in this regard in Kyoto University during his visit to the institute. He said that Mr.Modi also discussed on cooperation among Indian and Japanese institutes in this regard.

Edit : Edit
Comments : Leave a Comment »

Categories : Business, Politics
31082014
FAO highlights connections between hunger and conflict
"Without peace there can be no end to hunger, and without ending hunger, there cannot be peace"
25 August 2014, Rome – Greater progress in the effort to slash world hunger and malnutrition will pay a "peace dividend" by reducing pressures that feed into social unrest and civil conflict, FAO said today.
Announcing today FAO's partnership in a major inter-religious all-star football "Match for Peace" taking place on 1 September at Rome's storied Olympic Stadium, FAO Director-General Jose Graziano da Silva said: "Every day, over 840 million people on this planet go without enough to eat, and in far too many places, conflict is a major driver behind hunger and malnutrition."
"The prevention and resolution of conflict is central to the goal of eradicating hunger and malnutrition. Indeed, without peace there can be no end to hunger, and without ending hunger, there cannot be peace," he added.
First proposed by Pope Francis and featuring some of football's greatest players of past and present, the inter-religious sporting event is being organized by the Vatican'sScholas Occurrentes initiative and Italy's Fundazione PUPI, headed up by renowned ex-footballer Javier Zanetti, Inter vice-president.
Its goal: to unite fans and players from all world regions and faiths, through their shared love of football, in a moment of unity and solidarity in support of world peace.
Included in the star-studded lineup for the September 1 match are FAO Goodwill Ambassador Roberto Baggio,Gianluigi Buffon, Samuel Eto'o, Javier Mascherano, Lionel Messi, Mesut Özil, Andrea Pirlo, Ronaldinho,Andriy Shevchenko and David Trezeguet.
"FAO is pleased to be a partner in this historic event. The world's shared passion for football reminds us that we are all one global family," added Graziano da Silva.
"The 'Match for Peace' will be a historic event. The strong support of Pope Francis for this initiative has helped us bring together some of the world's most well-known players, without distinction for nationality, religion, or beliefs. It will be an event grounded in spirituality, brotherhood, and athletic excellence, undertaken in the name of promoting engagement and dialogue between the peoples of the world, to advance world pace," said Roberto Sarti, of the match's organizing committee.
"We will be taking a message of hope to the world, promoting fraternity between religions in search of a world from which no one is excluded. Hunger plays a major role in this search, since if there is hunger, there can be no true inclusion. So we are particularly grateful to FAO for its important support for this initiative, and will actively support the diffusion of the message 'Peace to defeat hunger,'" he added.
Ending hunger and malnutrition will advance the cause of peace
During the match — which will be viewed by millions of people worldwide — FAO will be drawing attention to how eliminating hunger and promoting good nutrition can build a more stable and peaceful planet.
"Hunger and malnutrition are not only a result of conflict – they can also provoke it," explained Graziano da Silva. "Eradicating hunger and malnutrition helps to prevent conflict and advances the cause of peace," he said.
This is one reason why FAO and the UN World Health Organization (WHO) are convening a major conference in Rome in November to tackle the issue of "hidden hunger" – malnutrition and micro-nutrient deficiencies caused by inadequate diets.
The human costs of poor nutrition are extremely high: 2 billion people worldwide suffer from one or more micronutrient deficiencies, including 162 million children under the age of five who are stunted and 51 million children who experience acute malnutrition and wasting. At the same time, around 500 million adults suffer from obesity.
Beyond the human toll, the cost of malnutrition, including obesity, to the global economy is estimated percent to run as much as 5 percent of the world's GDP — roughly $3.5 trillion.
November's 2nd International Conference on Nutrition (ICN2) will bring world leaders, policy experts, scientists, nutritionists, farmers, and civil society representatives together to build political will and establish a common agenda for tackling the scourge of hidden hunger.
"Hunger disrupts the fabric of societies and nations, is a major source of human suffering, and undermines world peace," said the FAO chief. "It is a global problem that require global solutions. November's ICN2 represents an opportunity for collective action against malnutrition that the international community must seize."
The Partita per la Pace will start at 20:35 Central European Time, 1 September 2014. It will be broadcast in Europe on Italy's RAI1 and in Argentina via Futbol Para Todos at 15:35 local time.
19-21 November 2014, FAO Headquarters, Rome, Italy
The Second International Conference on Nutrition (ICN2) is an inclusive inter-governmental meeting on nutrition jointly organized by the Food and Agriculture Organization (FAO) and the World Health Organization (WHO). The conference will convene high-level government officials and stakeholders with the overall goal of improving diets and raising nutrition levels through policies that more effectively address today's major nutrition challenges.

Edit : Edit
Comments : Leave a Comment »

Categories : Business, CSR, culture, Education, Football, Media, Politics, sports
31082014
US and Germany are at odds in the spying row post Edward Snowden's National Security Agency revelations in June 2013. Last October, it was revealed the NSA had been spying on German Chancellor Angela Merkel's calls since 2002. A German parliamentary committee has since been holding hearings on the NSA's spying activities in Germany.
Rally in Berlin against federal surveillance congregate in thousands  under the motto 'Freedom not fear,' who were calling for stricter control of German intelligence agencies.
American Internet activist and journalist Jacob Appelbaum called on activists to not be afraid to expose government secrets, with many in the crowd holding signs with photos of Edward Snowden.
"We have to stand up for all of those who do not usually get support. For all these people across the globe. For confidential communication. For privacy on the Internet. For encryption… It really works. And for anonymity. It protects you," Appelbaum said.
German rally also follows several recent scandalous revelations of Germany's own spying activity, besides what was revealed about its intelligence services' cooperation with NSA and allies in the files leaked by Snowden.
Earlier this month, it was reported that German foreign intelligence agency has been tapping Turkey for almost four decades as well as eavesdropped at least on one telephone conversation of US Secretary of State John Kerry. Berlin also announced it had discovered an alleged American spy in the country's Defense Ministry.
The organizers said about 6,500 demonstrators, a broad coalition of pro-transparency, anti-surveillance and civil rights groups including the Electronic Frontier Foundation, Reporters Without Borders, Digital Courage, and Amnesty International joined the rally as they marched from the Brandenburg Gate to the Federal Chancellery. Media agencies

Edit : Edit
Comments : Leave a comment

Categories : Business, CSR, Law, Legal, Media, Opinion, Pact, Politics, Science