31 12 2014
Dec 31,
Most of cricketers around the world has expressed surprise on the way MSD has resign, many called it an end of Dhoni cloud in BCCI.
Mahendra Singh Dhoni, abbreviated MSD, who scored big name in Indian cricket and is famous for his enforced  decisions and opinions to many out of ethical context.His stellar confidence, iconic team mates at his disposal and his naive, cricketing batting limited technique  helped him to take chances to win laurels for Team Dhoni.
Lately as team talent slipped so MSD fell into his own trap. A man responsible for injecting his own team members finally get from Harbhajan Singh, Yuvraj Singh, Mohammad Kaif the good wish to bring him luck ahead of his career.
Mahendra Singh Dhoni surprised cricketing world with his sudden announcement of retirement from Test cricket. Cricketers from across the world reacted with surprise and lavished praise on Dhoni's decision to call it quit from the longer format. Teammates, friends and critics poured their hearts out on social media praising his decision.
Expressing views on Twitter, retired batting legend, Sachin Tendulkar, also a long-time teammate, congratulated him on his Test career and encouraged Dhoni to retain 2015 World Cup. In a Tweet former Indian Cricket team Test captain Anil Kumble boasted his test career and said well done to retire as a captain. will miss unique persona like M S Dhoni.
#Dhoni का क्रिकेट को योगदान आदरयोग्य है। वह सम्मानित खिलाड़ी हैं और लाखों खेल प्रेमियों को प्रेरित करते हैं: सर्बानंद सोनोवाल, खेल मंत्री
#DhoniRetires के बीच #TestCricket में #Mahi की बल्लेबाज़ी और विकेटकीपिंग पर नज़र —http://newsflicks.com/story.php?story_id=3678 …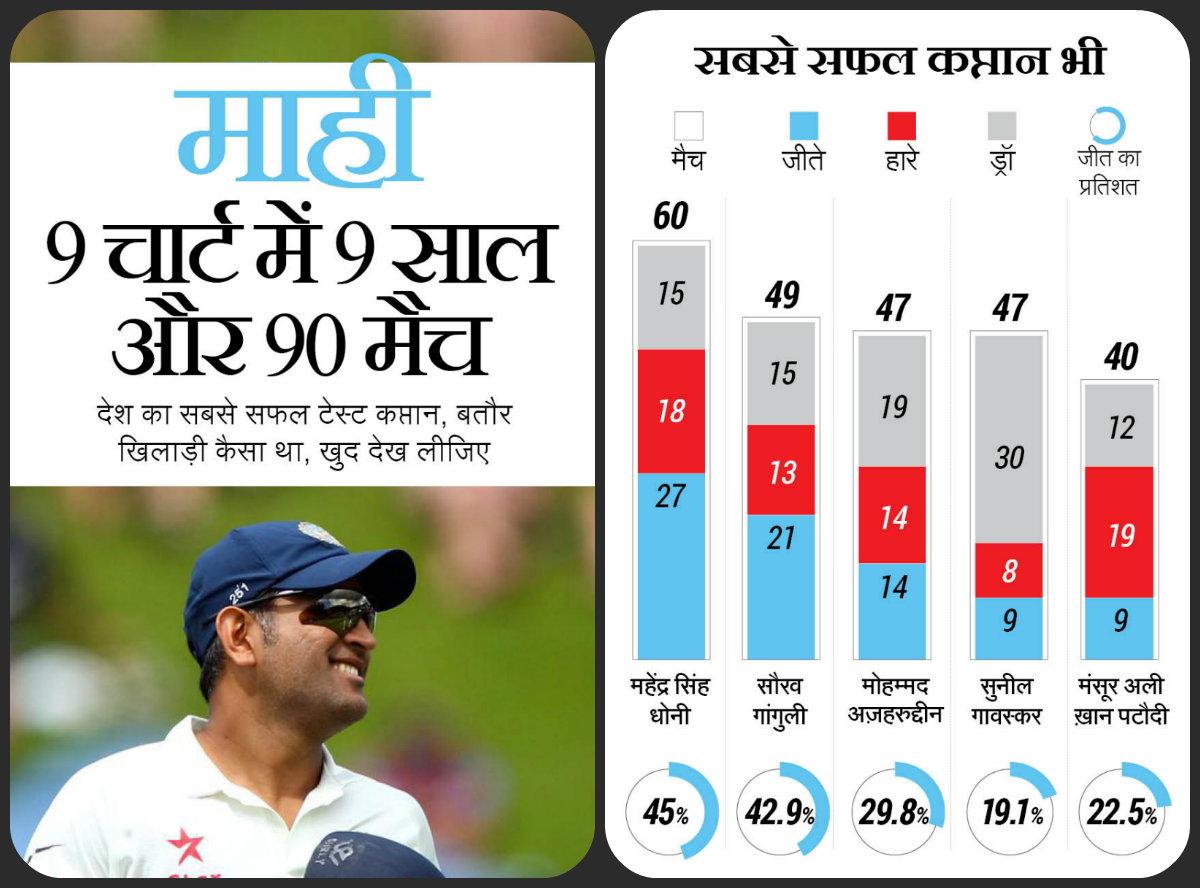 Edit : Edit
Comments : Leave a Comment »

Categories : sports