11 01 2015
The Prime Minister of Mali, Moussa Mara, has resigned, according to the office of the president. He is the second politician to step down from the position in less than a year, with Oumar Ly Tatam resigning in April 2014. Mara lasted one month longer in office than his predecessor, who was in office a mere eight months. Both resigned serving under President Ibrahim Boubacar Keïta – also known as IBK. Former head of government Modibo Keita has been appointed as a replacement. With Mara's resignation, the whole government also resigns.

Edit : Edit
Comments : Leave a comment

Categories : world News
11 01 2015
Black Sunday for People';s Rights
Red carpet for National and International Corporate Honchos, iron fist at Farmers
January 11 : While the Government of Gujarat is splurging on the jamboree called Vibrant Gujarat it is a crime to raise the issue of farmers'; suicides and low cotton prices. A presentation of the issues was planned by the non-party platformSanyukta Khedut Sangharsh Samiti to be handed over to the Gujarat Government. Farmers have been preparing and heading for their action spot in Ahmedabad in thousands since morning. However, in a wanton display of its paranoia as well as dictatorial tendencies the Government first tried to scare away bus and other transporters and attempted to force them to cancel farmers'; bookings. Farmers demonstrated their resolve by finding other means to reach the appointed spot. Thousands of farmers are being detained in tens of places across Gujarat.
First, Mr Shivlal Vekaria (ex-MP) and Chandulal Shingala were detained in Rajkot and then has followed the detention of hundreds of farmers in various districts. In the dead of the night – around 12.30 am – Sagar Rabari and Lakhan Musafir were arrested on January 10th. Other prominent farmers being detained include Mansukhbhai (Rajkot), Pradyumansinh and Ramdevsinh Chudasma (Dholera), Mahendrasinh Karmariya, Nipul Patel, Yakub Gurji (Bharuch), Lalji Desai (Becharaji-Mandal). The Mansa MLA Mr. Amitbhai, Dehgam MLA Kaminiben and Jashubhai Rana of Gandhinagar have also been arrested. Persis Ginwala (JAAG), Krishnakant & Swati Desai (NAPM) have also been detained since morning.
The farmers'; demands were simple and basic :
1) Support Price for Cotton at 1200 / 20 kg, and Rs. 1000 / 20 kg for groundnut
2) No de-commanding of Narmada waters and diversion for industries
3) Repeal of draconian anti-farmer laws such as Special Investment Region (SIR) Act, and Irrigation Act
4) Immediate withdrawal of the Ordinance making the Right to Fair Compensation and Transparency in Land Acquisition Act meaningless.
It has become the standard practice for the Government of Gujarat to clamp down on demands of the poor and toiling people of Gujarat rather than addressing. This Government believes in ruling via Ordinances on the one hand, and organising meaning public relations jamboorees – all at Tax Payers'; expense.
We condemn this wanton attack on the rights of the people and suppression of our democratic rights to assemble and protest. We will continue to protest this loot being promoted by the government in name of investors summit and development of Gujarat and Nation.
SARKAR HAMSE DARTI HAI POLICE KO AAGE KARTI HAI
Anand Mazgaonkar, Rajni Dave
9408309197

Edit : Edit
Comments : Leave a comment

Categories : Agri, Business
11 01 2015
PM Shri
@narendramodi
meeting with Mr. Janusz Piechocinski, Deputy PM of Poland at New Sachivalaya, Gandhinagar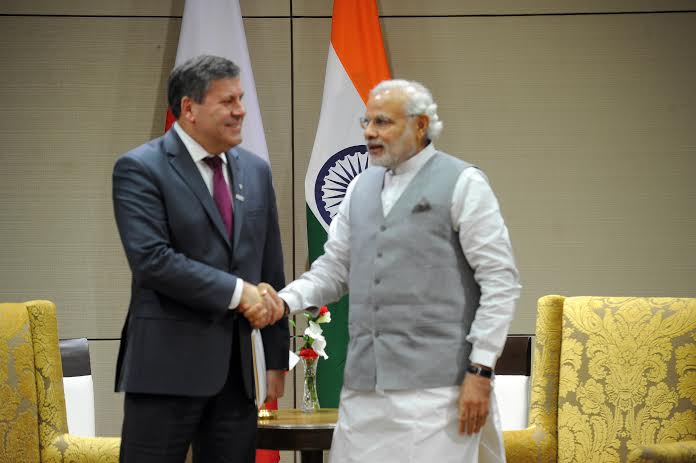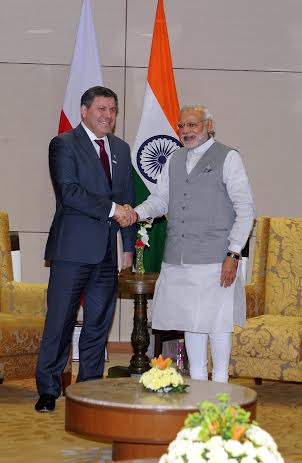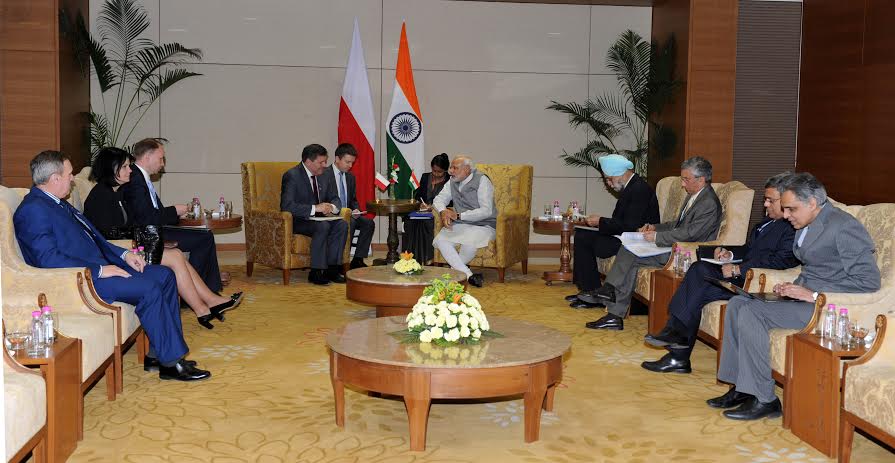 Edit : Edit
Comments : Leave a comment

Categories : Business
11 01 2015
"I want the people of France to know that the United States stands with you today, stands with you tomorrow," Obama said at a speaking engagement in Tennessee, describing France as America´s "oldest ally."
"The moment that the outrageous attack took place, we directed all of our law enforcement and counterintelligence operations to provide whatever support that our ally needs in confronting this challenge," Obama added.
Obama was speaking hours after the crisis that began with the massacre of 12 people at satirical weekly Charlie Hebdo reached a dramatic climax, with French police storming two hostage sites, killing two brothers wanted for the magazine attack and a jihadist ally.
"We´re hopeful the immediate threat is now resolved. The French government continues to face the threat of terrorism and has to remain vigilant. The situation is fluid," Obama added.
"President Hollande made it clear they´ll do whatever is necessary to protect their people and I think it´s important for us to understand France is our oldest ally."
US Secretary of State John Kerry honored the victims and congratulated French security forces Friday evening at the French embassy in Washington, where he signed a book of condolences.
In a surprise visit to the embassy one day earlier, Obama signed the book with "Vive la France!"

Edit : Edit
Comments : Leave a comment

Categories : Politics
11 01 2015
At least five people were killed and 17 others injured in a blast targeting an Imambargah in Chitian Hatian area on Friday.
Police said that a suicide attacker blew himself up after his attempt to enter the worship place was foiled.
The police said the suicide bomber reached the spot at around 9:20 PM riding a bike. They said that the bomber parked his bike and tried to enter the Imambargah.
Eyewitnesses said the explosion that took place outside the Imambargah was so intense that windowpanes of nearby buildings were shattered.
They said a Mehfil-e-Milad was being held in the Imambargah when the attack took place.
The injured were taken to the District Heaquaters Hospital where some of them were in critical condition.
A faction of the Tehreek-e-Taliban Pakistan (TTP) on Saturday claimed responsibility for the the imambargah blast in Chitian Hatian area of Rawalpindi, which killed five people and wounded 17 others.
The powerful explosion on Friday night triggered chaos as dozens gathered in the Imambargah to distribute alms to mark the birthday of Prophet Muhammed (PBUH).
"We claim responsibility of the attack on the Imambargah and vow to continue such attacks against enemies of Islam," spokesman of Jamat-ul-Ahrar faction of TTP, Ehsanullah Ehsan, said in an email.

Edit : Edit
Comments : Leave a comment

Categories : Business
11 01 2015
In view of the horrific terrorist attacks in France, the US has issued a caution for its citizens worldwide, including in India, saying attacks against Americans are becoming increasingly prevalent.
"Recent terrorist attacks, whether by those affiliated with terrorist entities, copycats, or individual perpetrators, serve as a reminder that US citizens need to maintain a high level of vigilance and take appropriate steps to increase their security awareness," the State Department said.Giving details of the threats that the US assets and Americans face worldwide, State Department said India continues to experience terrorist and insurgent activities which may affect US citizens directly or indirectly."Anti-Western terrorist groups active in India include Islamist extremist groups such as Harkat-ul-Jihad-al-Islami, Harkat-ul-Mujahideen, Indian Mujahideen, Jaish-e-Mohammed, and Lashkar-e-Tayyiba," it said, adding that it remains concerned about the continued threat of terror attacks, demonstrations, and other violence against US citizens and interests overseas.
"Past attacks have targeted public places, including some frequented by Westerners, such as luxury and other hotels, trains, train stations, markets, cinemas, mosques, and restaurants in large urban areas. Attacks have taken place during the busy evening hours in markets and other crowded places, but could occur at any time," the statement said.
The US government continues to receive information that terrorist groups in South Asia may be planning attacks in the region, possibly against US government facilities, its citizens, or US interests, it said.
The presence of Al-Qaeda, Taliban elements, LeT, indigenous sectarian groups, and other terror organisations, many of which are on the US government's list of designated Foreign Terrorist Organisations, poses a potential danger to US citizens in the region.
Terrorists and their sympathisers have demonstrated their willingness and ability to attack locations where US citizens or Westerners are known to congregate or visit. It said the presence of several foreign and indigenous terrorist groups poses a danger to US citizens throughout Pakistan.
No province in Afghanistan should be considered immune from violence and crime, and a strong possibility exists throughout the country for hostile acts, either targeted or random, against US and other foreign nationals at any time, it added.
Elements of the former Taliban regime and members of other terrorist organisations hostile to the Government of the Islamic Republic of Afghanistan and foreign nationals remain active in every province of the country.
The threat situation in Afghanistan is still considered critical and is expected to remain so through the current political and military transition, it said.
The State Department further said current information suggests that ISIL, Al-Qaeda, its affiliated organisations, and other terrorist groups continue to plan terrorist attacks against US and Western interests in Europe.
Authorities believe the likelihood of a terror attack in Europe is increased as European members of ISIL return from Syria and Iraq, it said.
Additionally, there is a continuing threat in Europe from unaffiliated persons planning attacks inspired by major terrorist organisations but conducted on an individual basis.
In the past several years, organised extremist attacks have been planned or carried out in various European countries. European governments have taken action to guard against terrorist attacks, and some have made official declarations regarding heightened threat conditions, it added.
On Friday, three terrorists who seized hostages at separate locations and ignited fear across Paris were killed along with three of their hostages as the gunmen clashed with thousands of French security forces.
France has been on high alert since the country's worst terror attack in decades the massacre on Wednesday in Paris at the satirical newspaper Charlie Hebdo that left 12 people dead.

Edit : Edit
Comments : Leave a comment

Categories : CSR
11 01 2015
Sort by: 
Date of last comment
 Show me: 
All the posts
You inputs for Rail Budget 2015-2016
Dear Railways Circle Members:With this post, we would like to seek specific inputs from you on Rail Budget 2015-16.These are things that you would like Railways to immediately attend to. We will prioritize based on the number of responses for each area unless it is an exceptional suggestion.
… 
More>>
Dear Minister,
All long route trains at least more than 200 kms to be considered express trains so as to… 
More>>
5 minute(s) ago
I have often observed the First Class compartment of MMTS in Hyderabad is being occupied by ordinary passengers ( I am snot sure whether they have tickets also!). I… 
More>>
Like airports passengers luggage carriers may be provided freely in stations.
0 minute(s) ago
Rail Budget , Must be poor man friendly, Must be provision for PP model for Rly Crossing without gates, must go for Signals automation