25 02 2015
President's address outlines use of technology, innovation
ASHOK B SHARMA
After the BJP's victory march was halted in Delhi by the new Aam Aadmi Party, leading to its decimation in the state, the ruling party at the Centre has become cautious about not ignoring the issues relating to the common man. Apart from being aggressive on market reforms and alluring foreign direct investments (FDIs), the upcoming Union Budget and Railway Budget are likely to focus on some of the needs of the common man. The intention of the government is amply made clear in the President's address to the joint session of the Parliament.
President's address, drafted by the Union Cabinet, is reflective of the government's annual agenda. A careful reading between the lines shows that that the government wants to keep its agenda for second generation economic reforms intact and to give a human face to its processes of further liberalization of the economy, it intends to resolve the issues of the common man much through the deployment of science and technology.
"Continuous evaluation of inverted duties is being undertaken to make Indian industries competitive. Stress is being laid on research and innovation. While focusing our attention on manufacturing for creating more jobs, my Government will continue to work on our formidable strength in the service sector," the President's address said.
Make-in-India is the pet project of the Prime Minister Narendrabhai Damodardass Modi and the Union Budget is likely to spare no effort in paving the way for the easy inflow of the FDIs and making as much concessions to the manufacturing sector.
As for the services sector, tourism is likely to get much attention. A new tourism policy is on the anvil. Major allocations are likely for developing Jyotirling Circuit, Sukhmangal Circuit, Dakshin Dham Circuit, Krishna Circuit, Himalayan Circuit, Coastal Circuit and Buddha Circuit. Dedicated tourist trains are already in vogue for some of these destinations.
The upcoming Railway Budget is likely reform and infuse new vitality into this through better services, improved passenger-safety and increased movement of freight. By ensuring passenger safety and giving better facility, the government intends to bridge the gap between infrastructure growth and passenger traffic growth. Greater allocations are likely for dedicated freight corridors and metro rail projects in some cities.
On the social sector front, government intends to make Mahatma Gandhi National Rural Employment Guarantee Scheme (MGNREGS) "a powerful weapon to combat rural poverty" and by creating durable assets. It will direct about 60% of the expenditure under this scheme for creating agriculture infrastructure. Focus will be on promoting value-added agriculture, market reforms, use of technology, augmenting irrigation through river basin linking if possible and improving productivity in areas with untapped potential. Adequate attention is likely for livestock and fishery sectors.
Another area is skill development. A National Policy for Skill Development and Entrepreneurship is on the anvil to cater to the needs of both domestic and global markets. The Micro Small and Medium Enterprises are also likely to get attention. The Budget is also likely to give attention science and technology, particularly research and development. "Steps are being taken to channelize more resources for research and development in India; build world class research centres; nurture young talent and promote international collaboration, including the world's largest optical -Thirty Meter Telescope", the President's address said.
The Mission Housing for All by 2020 is set to get adequate sops and allocation with government's liberalized FDI policy. For easy flow of loan to housing and other sector the government is ready to undertaking financial sector restructuring and expedite implementation of the recommendations of the Financial Sector Legislative Reforms Commission.
With a view to aggressively promote development of 100 smart cities, the government will come out with a National Urban Development Mission which would also focus on water and solid waste management.
Power sector is likely get adequate focus in the Budget alongwith the development of clean energy. Government intends to enhance the share of renewable energy in electricity generation from the present 6% to 15% in the next 7 years. Solar energy generating capacities will be set up along the international borders.
The Defence allocation is likely to see a sea change with focus on Indian Navy. Under Make-in-India programme ship designing capabilities, ship building and ship repairs will be strengthened. An environment will be created to increase the shipping tonnage and reduce the transaction time at ports. The Jal Marg Vikas Project will be taken up with sincerity for comprehensive development for national waterways for transportation.
On the front of Information Technology, Digital India will be taken up in right earnest. Auctions will be conducted for 135 vacant channels in 69 existing cities of FM phase-II as part of first batch of FM phase-III. It will also facilitate migration of FM phase-II to FM phase-III. This will take private FM radio to cities having population of more than one lakh and border towns in Jammu and Kashmir, northeastern region and island territories in a phased manner.
Prime Minister's other pet projects like Swachh Bharat Mission, Namai Gange, Pradhan Mantri Jan Dhan Yojana and NITI Aayog are also likely figure prominently in Finance Minister's Budget speech.
The Budget, therefore, is likely to be mix bag of reforms, deployment of technology and innovation and social agenda.
(Ashok B Sharma is a senior Columnist writing on strategic and policy issues in several Indian and international newspapers and magazines. He can be reached at ashokbsharma@gmail.com His mobile phone no +91-9810902204)

Edit : Edit
Comments : Leave a Comment »

Categories : Business, CSR, culture, Education, Finnance, Funds
25 02 2015
PM writes to Chief Ministers<
Record increase in devolution of resources to states
PM: Our Government has decided to devolve maximum money to states and allow them the required freedom to plan the course of states' development.
The Prime Minister, Shri Narendra Modi, has written to Chief Ministers, informing them of the Government`s decision to wholeheartedly accept the recommendations of the 14th Finance Commission. Following is the text of the Prime Minister`s letter:
"You are aware that ever since our Government came into office, I have been working to strengthen our federal polity and promote cooperative federalism. The people of the country have high expectations from their governments and do not want to wait. Therefore, since the very beginning, we have been committed to a rapid and inclusive process of growth. Looking to the diversity of the country, we understand that real and functional Federal Governance is the only vehicle to achieve this objective quickly and holistically.
I sincerely believe that strong states are the foundation of a strong India. Even as Chief Minister, I had been saying that the progress of the country depends on the progress of states. This Government is, therefore, committed to the idea of empowering states in all possible ways. We also believe that states should be allowed to chalk out their programmes and schemes with greater financial strength and autonomy, while observing financial prudence and discipline. We are clear that without this, local development needs cannot be met and marginalised communities and backward regions cannot be brought into the mainstream.
With this in mind, we have replaced the Planning Commission with the NITI Aayog with the explicit intent of ensuring that this becomes a common forum for forging a national vision on development. Such a vision and the concrete steps that all of us take will help in realising the development aspirations of our people.
It is in this context that we have wholeheartedly accepted the recommendations of the 14th Finance Commission, although it puts a tremendous strain on the Centre's finances. The 14th FC has recommended a record increase of 10% in the devolution of the divisible pool of resources to states. This compares with the marginal increases made by previous Finance Commissions. The total devolution to states in 2015-16 will be significantly higher than in 2014-15. This naturally leaves far less money with the Central Government. However, we have taken the recommendations of the 14th FC in a positive spirit as they strengthen your hand in designing and implementing schemes as per your priorities and needs.
In making its recommendations, the 14th FC has made a fundamental shift in the pattern of financing revenue expenditures. It has assumed all central assistance to State Plan Revenue expenditure to be part of the states's revenue burden and determined devolution on this basis. Para 7.43 of its report explains this. The dominant view of states too has been that a majority of the resources should flow as tax devolution and the number of CSS should be reduced as the 14th FC states in Paras 8.6 & 8.7.
Therefore, there is a shift from scheme and grant based support from the Central Government to a devolution based support. Hence, the devolution of 42% of divisible resources.
Therefore, as per the 14th FC, all State Plan Revenue expenditure has to be met from the resources being devolved to states. In spite of this large devolution, we have decided to continue with some support to topmost areas of national priority such as poverty elimination, MNREGA, education, health, rural development, agriculture and a few other areas.
You will appreciate that, following the acceptance of the 14th FC recommendations, we are moving away from rigid centralised planning, forcing a 'One size fits all' approach on states. States have always been voicing their opposition to this philosophy for years. Accepting these long standing concerns and long-felt lacunae in the country's planning process, our Government has decided to devolve maximum money to states and allow them the required freedom to plan the course of states' development. The additional 10% of resources being devolved will give you this freedom.
In this overall context when you are flush with resources, I would like you to have a fresh look at some of the erstwhile schemes and programmes supported by the centre. States are free to continue or change these schemes and programmes as per their discretion and requirement. In all these, the Union Government, particularly the NITI Aayog, will support states in developing a strategy and in its execution through ideas, knowledge and technology.
This is all towards the fulfilment of my promise of co-operative federalism. As you have already seen, we have decided to involve states in discussing and planning national priorities. This is being done so as to maximise the outcome from every rupee spent either at the centre or the state. It was with this spirit of Team India that all Chief Ministers have been made equal partners in the Governing Council of NITI Aayog. This is our strategy to take the country to a faster and yet inclusive growth trajectory through co-operative federalism which is real and true federalism.
We are happy with our decision and that resources are going to the right place. Resources are going to states to ensure that poverty is eliminated, jobs are created; houses, drinking water, roads, schools, hospitals and electricity are provided. This has never happened in this country before.
In addition, we have recently revised the rates of royalty on minerals which benefits many states. The ongoing transparent auction of coal and other minerals will result in flow of over Rs 1 lakh crore of additional funds to mineral and coal bearing states. Eastern India, which is less developed in spite of having immense mineral resources, is an important gainer and this is an opportunity for this part to catch up with the rest of the country.
Resources, thus, are not and will not be a problem. The issue is the direction and intent of our policies and our capacity to implement. You will agree that money, either at the central or the state level, should be spent to address the key challenges before the Nation. The focus should be the poor, farmers and common men and women, the youth and children. The challenge is to address the factors which inhibit the realisation of their full potential.
This is a golden opportunity in our nation's economic development process. My recent visits across the world have shown that there is a lot of optimism about India and interest in investing here. Everyone wants to partner with India in its growth story. This is not an opportunity for the central government, but an opportunity for India as a whole.
Let us aim at a quantum leap in the process of our nation's development. I am writing this to you in order to seek your co-operation and involvement in defining key challenges facing your state and the country and to devote the time, energy and resources to address these. I expect that every state will come up with a plan for its key priorities and deploy resources for this purpose. We should also adopt a rigorous system of evaluation of schemes and projects. I will work with you in this effort. Together, we have to establish benchmarks in terms of quality of works and their speedy execution.
Let us work together in this direction. I will be available for any consultation in this regard at any time."

Edit : Edit
Comments : Leave a Comment »

Categories : Business, Uncategorized
25 02 2015
GOVERNMENT ORDERS SUSEPNSION OF SHRI SHASHI SHANKAR, DIRECTOR (T&FS) Shri Shashi Shankar, Director (T&FS), ONGC has committed gross misconduct while dealing with a tender for Procurement of Twenty One Blowout Preventers (BOP). He has been associated with this tender as GGM and OSD to Director (T&FS) and from 01.01.2012 as Director (T&FS).Taking strong note of the lapses the Government on 23rd February ordered suspension of Shri Shashi Shankar with immediate effect to ensure fair and transparent inquiry.

Edit : Edit
Comments : Leave a Comment »

Categories : Business, CSR
25 02 2015
8 killed in Czech Republic as gunman fires at restaurant
Feb 25
In the Czech Republic, a gunman has opened fire at a restaurant, killing eight people before shooting himself dead. Officials say, the man burst into the Druzba restaurant in the eastern town of Uhersky Brod and started shooting indiscriminately. Some 20 people were thought to have been in the restaurant at the time. Police described it as the worst mass shooting incident on record. Czech Interior Minister Milan Chovanec said it was not a terrorist attack.

Edit : Edit
Comments : Leave a Comment »

Categories : Business
25 02 2015
Luthuania to restore compulsory military service for young men amid mounting tension in Ukraine
Feb 25
Luthuania will restore compulsory military service for young men as tensions in Ukraine continue to worry the small Baltic nation. After a meeting of military leaders and top government officials, President Dalia Grybauskaite said the measure is necessary because of growing aggression in Ukraine. Military officials said Lithuania will reinstate national service for five years starting in September. They will serve for nine months. The country has some 15,000 troops, down from nearly 39,000 it had before joining the alliance in 2004, and has no military aircraft or tanks.

Edit : Edit
Comments : Leave a Comment »

Categories : Business
25 02 2015
Obama endorses India's candidature for permanent membership of reformed UNSC
Feb 25
US President Barack Obama has endorsed India's candidature for the permanent membership of the reformed UN Security Council. White House Press Secretary Josh Earnest said yesterday that India's permanent membership to the UN security council is among a variety of other important reforms to the United Nations that Mr Obama has endorsed. Mr Earnest, however, said that he has no updates on the status of the ongoing reforms to the UN or efforts to try to bring about some of those reforms. During his India visit last month, the US President had reaffirmed his support for a reformed UN Security Council with India as a permanent member.

Edit : Edit
Comments : Leave a Comment »

Categories : Business
25 02 2015
Date: 24th Feb, ';15
This report, prepared by Association for Democratic Reforms (ADR) and National Election Watch (NEW), focuses on donations received by the National Political Party, Bharatiya Janata Party, above Rs 20,000, during the Financial Year 2013-14, as submitted by BJP to the Election Commission of India (ECI) on 20th Dec,'14. This report should be read in conjunction with the analysis of donations for the FY 2013-14 declared by the other National Parties (less BJP) which was released by ADR earlier. The report can be accessed here.
Executive Summary
The executive summary below lists the key observations drawn from the report:
Submission of contribution report by BJP to the ECI:
Political parties were required to submit their contributions report for FY 2013-14 to the ECI before the due date (i.e.31st October, 2014).
The ECI received the donations report of Bharatiya Janata Party (BJP) on 20thDecember, 2014.
ECI received the donations report of BSP on 13thSept,'14, of NCP on 17th Sept,'14, of CPI on 23rd Sept,'14 and of CPM and INC on 30th Sept,'14.
Number of donors contributing above Rs 20,000 to National Parties from all over India (FY 2013-14)
The total amount of donations above Rs 20,000 received by National Political Parties during FY 2013-14 was calculated from the donations report submitted to the Election Commission annually.
The total amount of donations above Rs 20,000 declared by the National Parties was Rs. 247.79 crores, from 2361 donations. BSP declared that the party received no donations above Rs 20,000.
The donations declared by BJP amounts to 69% of the total donations declared by all the National Parties together.
On an average, BJP received Rs 13.19 lakhs per unique donor*, INC received Rs 11.70 lakhs per unique donor, NCP: Rs 1 crore, CPI: Rs 3.23 lakhsand CPM: Rs 4.03 lakhs per unique donor.
| | | | | |
| --- | --- | --- | --- | --- |
| Party | Total number of donations | Total number of unique donors (a) | Total amount contributed (b) | Average amount of donation per unique donor (b/a) |
| BJP | 1480 | 1295 | Rs 1,70,86,36,182(~Rs 170.86 crores) | Rs 13,19,410(~Rs 13.19 lakhs) |
| INC | 743 | 509 | Rs 59,58,37,728(~Rs 59.58 crores) | Rs 11,70,605(~ Rs 11.70 lakhs) |
| NCP | 15 | 14 | Rs 14,02,00,000(~Rs 14.02 crores) | Rs 1,00,14,286(~ Rs 1 crore) |
| CPI | 53 | 38 | Rs 1,22,81,544(~Rs 1.22 crores) | Rs 3,23,199(~ Rs 3.23 lakhs) |
| CPM | 70 | 52 | Rs 2,09,74,666(~Rs 2.09 crores) | Rs 4,03,359(~ Rs 4.03 lakhs) |
| Total | 2361 | 1908 | Rs 247.79 crores | Rs 12.98 lakhs |
*Unique donor: A donor who might or might not have made multiple donations during FY 2013-14
III.            Comparison of donations received by National Parties during FY 2012-13 and FY 2013-14
The total donations of BJP, INC, NCP and CPI during FY 2013-14 showed an increase of 158%, from the previous financial year, 2012-13.
The total donations ofBJP during FY 2013-14 increased by Rs 87.67 crores from Rs 83.19 crores during FY 2012-13 to Rs 170.86 crores during FY 2013-14 (105% increase).
Donations declared by BJP during FY 2013-14 is more than twice the aggregate declared by the INC, NCP, CPI and CPM during the same year.
Donations to BJP during FY 2013-14
BJP received maximum donations of Rs 55.86 crores from 32 donors who donated between Rs 1 crore and Rs 10 crores.
Top 3 donors to BJP
Bharti Group's Satya Electoral Trustdonated the maximum amount of Rs 41.37 crores to BJP from 3 donations followed by Sterlite Industries India Ltd which donated Rs 15 crores from 4 donations and Cairn India Ltd. which donated Rs 7.50     crores from 2 donations to the party. It is to be noted that none of the above 3 donors donated toBJP during FY 2012-13.
Bharti Group's Satya Electoral Trustwas also the top donor to INC, contributing Rs 36.50 crores to the party during FY 2013-14.
Satya Electoral Trustmade the maximum contribution of Rs 4 crores to NCP too during FY 2013-14.
Donors from Corporates/ business sectors Vs. Individual donors
92% of donations to BJP above Rs 20,000 were from corporate houses/ business sector.A total of 704 donations from corporate/business sectors amounting to Rs 157.84 crores were made to BJP
8% of donations to BJP above Rs 20,000 were made by individuals. 772 individual donors donateda total ofRs 12.99 crores to the party during FY 2013-14.
Four donations declared by BJP contained details of only the amount donated by the donor but not the details of the donors. The total donations from such donors amounted to Rs 2.75 lakhs (0.02% of total donations).
VII.            State-wise donations to National Parties
A total of Rs 45.21 croreswas donated to BJP from 119 donations from Delhi by both corporates and individuals together.  It is to be noted that INC received maximum donations from Delhi (Rs 39.05 crores), as did CPI (Rs 54.6 lakhs) and CPM (Rs 1.88 crores) during FY 2013-14.
Donations to BJP from Gujarat amounted to Rs23.25 crores followed by 22.24 crores from Maharashtra.
It is to be noted that3 donations from individuals from Singapore was made to BJP, amounting to a total of Rs 8.50 lakhs. These were the only declared donations from outside India.
S No.
Name
Complete address of the contributing person/company
PAN
Amount of contribution(Rs.)
Mode of contribution (Cheque/ DD/ cash/RTGS/others)
Details of contribution
1
Ashish Todi
Singapore
 (Not given)
        5,00,000
804340
ICICI Bank
2
Vikash Dhanuka
Singapore
 (Not given)
         2,50,000
804341
ICICI Bank
3
Pulak Chandan Prasad
Singapore
 (Not given)
           1,00,000
868797
Citi Bank
Total
      Rs 8.50 lakhs
VIII.            Discrepancy in disclosure of information in the donations report
Cheque/DD numbers of 3 pairs of donors are identical. The donations made by A to Z Online Services Pvt. Ltd. (Rs 84 lakhs) and Jumana Goolam Vahanvati (Rs 20 lakhs) was through the same cheque number (957). Similarly, the donations made by Ravi Developers (Rs 7.50 lakhs) and Ravi Development (Rs 7.50 lakhs) was through the same cheque number (7939569). Also, the two donations made by Praveen Kumar of Rs 5 lakhs each was through the same cheque number (826592). It is to be noted that the PAN details of the first four donors was not declared in the contributions report of the party.
The contribution statement says that 'Bharatiya Janata Party' donated Rs 1 lakh while 'BJP Ward 66' donated Rs 30,000 to the party. Also, 4 donors whose complete name, address and PAN details are unavailable donated a total of Rs 2.75 lakhs to the party during FY 2013-14.
Discrepancy in disclosure of information in the donations report
S. No.
Name
Complete address of the contributing person/company
PAN
 Amount of contribution (Rs.)
Mode of contribution (Cheque/ DD/ cash/RTGS/others)
Details of contribution
1
A to Z Online Services Pvt. Ltd.
Tech Park on Tower E, Airport Road, Yerwada, Pune- 411006
 Not given
    8,400,000
957
HDFC Bank, Pune- 411001  Branch
2
Jumana Goolam Vahanvati
21, Buckley Court, Nathalal Parekh Marg, Colaba, Mumbai- 400039
Not given
   2,000,000
957
HDFC Bank, Fort Branch
3
Ravi Developers
 (Not provided by BJP)
Not given
   750,000
7939569
Punjab National Bank, Kandivali(W) Branch
4
Ravi Development
 (Not provided by BJP)
Not given
        750,000
7939569
Punjab National Bank, Kandivali(W) Branch
5
Praveen Kumar
 (Not provided by BJP)
Given
       500,000
826592
6
Praveen Kumar
 (Not provided by BJP)
Given
        500,000
826592
Other discrepancies in declaration of donations by BJP
S. No.
Name
Complete address of the contributing person/company
PAN
 Amount of contribution (Rs.)
Mode of contribution (Cheque/ DD/ cash/RTGS/others)
Details of contribution
7
Bharatiya Janata Party
 (Not provided by BJP)
Not given
                                     100,000
5430
Patan Co-Op Bank, Goregaon(W) Branch
8
BJP Ward 66
 (Not provided by BJP)
Not given
     30,000
0 92225
Dattatray Bank, Jogeshwari (E ) Br.
9
V.V
 (Not provided by BJP)
Not given
       100,000
Cash
10
 (Not provided by BJP)
 (Not provided by BJP)
Not given
  100,000
20285
 Not given
11
Uma Palace
 (Not provided by BJP)
Not given
          50,000
00 7724
ICICI Bank , Chembur Branch
12
 (Not provided by BJP)
Sean Adevent 2nd Floor Alfran Plaza Opposite Dada Vaidya Hospital Panjim Goa-403001
Given
          25,000
456063
Indian Overseas Bank   Panaji
​
Recommendations of ADR
​
The Supreme Court gave a judgment on September 13, 2013 declaring that no part of a candidate's affidavit should be left blank. Similarly, no part of the Form 24A submitted by political parties providing details of donations above Rs 20,000 should be blank.
There is ambiguity in cash donationsfrom 17 donors declared by BJP which amounted to Rs 24.77 lakhs in FY 2013-14. The party has not included any remarks though it is part of the prescribed format of the Election Commission of India.Thus, there is a need for clarity in large amounts of cash donations by individuals/ business houses.
A total of Rs 60.78 crores(36%) was declared as donations by BJP from donors whose addresses were not declared. Such contributions were made through 923 donations without providing the details of addresses of the donors. Due to lack of complete information about the donors, the state from which the donations were made and the details of their business houses could not be verified. Thus, it should be made mandatory to provide complete information in the donations report of parties.
Full details of all donors should be made available for public scrutiny under the RTI. Some countries where this is done include Bhutan, Nepal, Germany, France, Italy, Brazil, Bulgaria, the US and Japan. In none of these countries is it possible for 75% of the source of funds to be unknown, but at present it is so in India.
The National and regional political parties must provide all information on their finances under the Right to Information Act.This will go a long way to strengthen political parties, elections and democracy. For more information, please refer tohttp://adrindia.org/content/political-parties-unitedly-boycott-cic-hearing-non-compliance-political-parties-under-rti
For information on cash donations to BJP and donors who donated above Rs 20,000 without PAN and complete information on donations declared by BJP for FY 2013-14, please refer to the attached report.
Contacts
Media and Journalist Helpline+91 80103 94248

Email: adr@adrindia.org

Maj Gen Anil Verma (Retd.)Head

National Election Watch and Association for Democratic Reforms

+91 8826479910

Prof Jagdeep ChhokarIIM Ahmedabad (Retd)

Founder Member National Election Watch, Association for Democratic

Reforms

+919999620944

Prof Trilochan SastryIIM Bangalore

Founder Member,

National Election Watch,

Association for Democratic Reforms

+919448353285,
​
—
Association for Democratic Reforms
T-95A, C.L. House, 1st Floor,
(Near Gulmohar Commercial Complex)
Gautam Nagar
New Delhi-110 049
M: +91 8010394248
T: +91 11 41654200

Edit : Edit
Comments : Leave a Comment »

Categories : Education
25 02 2015
The Government of India and the Asian Development Bank (ADB) India signed here recently an agreement for a US $350 million loan to upgrade district roads in the state of Madhya Pradesh.
The Madhya Pradesh (MP) District Connectivity Sector project will improve about 1,600 kilometers of major district roads in Madhya Pradesh through lane widening, surface improvements, strengthening of culverts and bridges.
Shri Tarun Bajaj, Joint Secretary (Multilateral Institutions), Department of Economic Affairs, Ministry of Finance, who signed the loan agreement on behalf of Government of India said that the project will lead to improved road transport connectivity in Madhya Pradesh (MP) through reconstruction and rehabilitation of major district roads to all-weather standards. The project will have innovative elements like creation of State Highways Fund on PPP model, toll plus annuity on hybrid model of BOT (Toll) & BOT (Annuity), Border Checkposts, also on PPP model to increase the revenue and control overloading and damage to state roads.
Speaking on the occasion, Ms. Teresa Kho, Country Director of ADB's India Resident Mission, who signed the agreement for ADB said that the loan is ADB's first in the district roads sector in India, and will address a neglected part of ongoing road network upgrades in the country for these secondary roads, which provide a key link between rural roads and state highways. She further said that this will help to cut travel times, improve traffic flow and road safety, and provide better access to markets and social services for poor and remote communities. The project agreement was signed by Sh. Vivek Aggarwal, Secretary, Public Works Department, Government of Madhya Pradesh, and Shri Arun Paliwal, General Manager, Madhya Pradesh Road Development Corporation (MPRDC).
In addition to improving the roads, the project envisages to include five-year performance-based maintenance contracts integrated as an adjunct to the construction contracts, to ensure road assets are constructed to higher standards and well maintained after initial work is completed. The project roads will also be covered under an accident response system being developed by the state, with assistance under ADB's prior loans.
ADB's loan will cover 70% of the total project cost of $500 million, with the state government of Madhya Pradesh providing the balance of $150 million. It is expected to be completed by April 2018. Madhya Pradesh has a road network of about 127,000 km, including 4,700 km of national highways, 11,000 km of state hi

Edit : Edit
Comments : Leave a comment

Categories : CSR
25 02 2015
Strongly oppose land ordinance, it is against farmer's interest, favours the corporates : Nitish Kumar,Bihar CM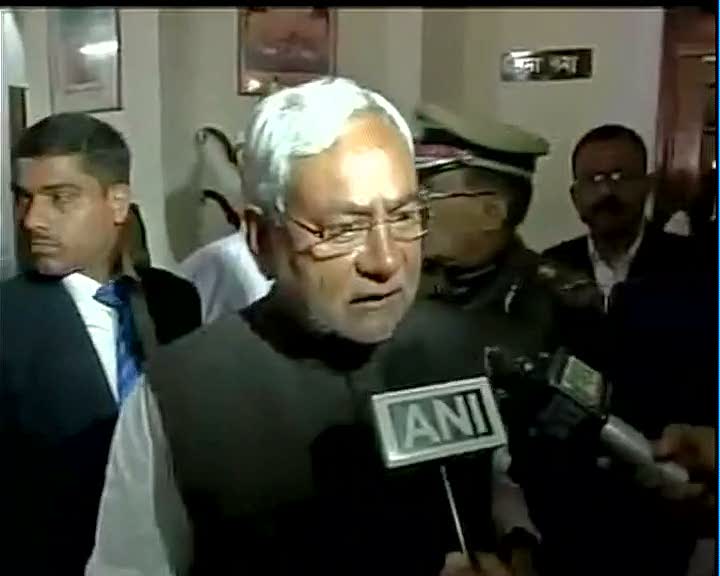 Edit : Edit
Comments : Leave a comment

Categories : Business
25 02 2015
Gujarat CM welcomes Budget 2015-16
Date : 2015-02-24
Gujarat Chief Minister Smt Anandiben Patel welcomed Budget 2015-16 presented by Gujarat Finance Minister Shri Saurabhbhai Patel in Legislative Assembly today. She stated that the all-inclusive Budget will give momentum to State Government's commitment towards sustainable development. The second consecutive budget under the leadership of CM Smt Patel has her imprint in the emphasis of the social sector and firm push for over-all development. Social and physical infrastructure has been accorded due priority with 48.53% of total outlay (Rs 38484.15 crores) allotted to social services sector.
The Budget 2015-16 is of the size of Rs 139139 crore with Revenue surplus of Rs 7308 crores. This is the fifth consecutive year with Revenue Surplus Budget. Plan allocation for 2015-16 is Rs 79295 crore for Annual Development, which shows 11% rise over the plan size of last year.
The new Budget features provisions that furthers CM Smt Patel's vision of Gatisheel Gujarat in every way possible. Continuing the tradition of Gender Budget, the new Budget continues to propel women empowerment in various sectors, with 593 schemes and a total provision of Rs 45770 crores. This includes individual beneficiary oriented schemes as well as infrastructural and community developmental schemes. The Budget addresses aspirations of the youth, empowering them with knowledge and skills and providing them a platform to engage in state's growth-story, said CM Smt Patel.
She particularly welcomed the starting of ten new colleges in talukas not having a single college and establishment of new universities in Saurashtra and another in tribal areas in the eastern belt of the state. The Global Knowledge Hub in Vadodara district which would house Children University, Teachers' University, Sports University and Central University will prove to be a game-changer in the current education scenario. The pre-metric scholarship of tribal children have been almost doubled in all categories and maintenance grant for students in Ashram Shalas has been increased by 50%.
Leveraging the support from Centre, a provision of Rs 9000 crores has been allotted towards various facets of Sardar Sarovar project including canal network and Statue of Unity. To bring the water-starved villages of Saurashtra into the ambit of second Green Revolution being ushered in the state, the provision of SAUNI Yojana has been increased substantially from Rs 1294 crores last year to Rs 2102 crores. An additional 10% subvention to marginal farmers to procure equipment for drip irrigation would further Gujarat's success with the motto of Per drop, More crop. New initiatives like Organic Farming Policy and Apni Mandi to market organic produce have also been introduced.
The boost to the augmentation of MSME sector laid down in the recently introduced Industrial Policy is supported by a provision of Rs 562 crores. Similarly, start-up schemes has got a provision of Rs 12 crores, that will support young entrepreneurs of the state. At the same time, a notable raise in the assistance provided to the workers working through khadi institutions and boards would be a great boon for them.
Gujarat, as always, has been committed to the development of the deprived. Rs 9690 crores have been provided under tribal area sub-plan, plus Rs 1674 crores for tribal development department for addressing various developmental needs to bring our Van Bandhus in the mainstream. CM Smt Patel welcomed the provision for grand celebration of 125th birth anniversary of the architect of the Constitution of India Dr Babasaheb Ambedkar while hailing provision of Rs 2263 crores for Social Justice and Empowerment Department.
Gujarat being a highly urbanized state, a provision of Rs 10,270 crores has been made for urban development and urban housing.Due allocation of funds has been made for global projects like SMART City and DREAM City on one hand and empowering municipalities and other urban local bodies, on the other.
Rs 3070 crores under Swarnim Jayanti Mukhyamantri Shaheri Vikas Yojana has been made to enhance the quality of life in urban areas. For providing 2 lakh houses in the coming year, Rs 1100 crores provided under Mukhyamantri Gruh Yojana would be a step forward towards slum-free Gujarat as well as fulfilling the dreams of neo-middle class. A provision of Rs 871 crores have also been made for housing in rural areas.
Another major need of neo-middle class is affordable high quality health, that would be addressed by a new policy involving NGOs and PPP model, the Budget specifies. Addressing the shortage of manpower in the medical sector, Rs 1128.5 crores have been provided for developing and constructing new medical colleges and up-gradation of hospitals.
Formation of Island Development Authority will have double benefit in the form of development of tourism as well as security of the coastline, for which Rs 10 crores have been provided.
Gujarat has reaffirmed its commitment towards cleanliness, by providing Rs 1200 crores for urban and Rs 722 crores for Gramya Swachhata Mission. This includes construction of toilets, waste management, drainage facilities as well as creating awareness.
With a motto of Digital Gujarat for Digital India, there is an ambitious plan to provide Wi-Fi facilities in districts and talukas on PPP basis, to create the facility of Digital Vault for civilians and institutions, to strengthen the State Resident Data Hub and to initate novel programmes like Citizen Engagement Platform through social media.